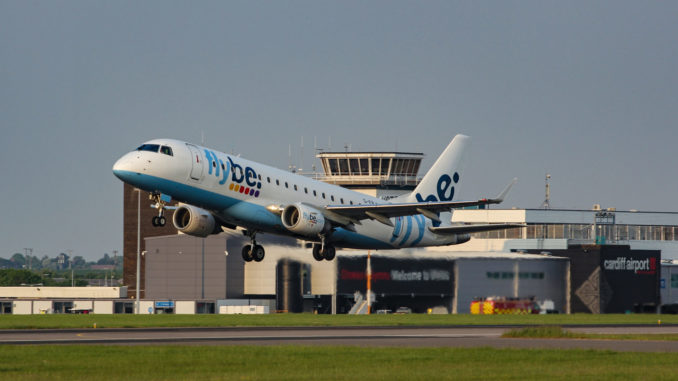 Sources close to regional airline Flybe (BE/BEE) have confirmed that the airline is in talks to try and secure additional finance to avoid a total collapse of the carrier just a year after it was bought Connect Airways Ltd.
The Department of Transport (DoT) has been briefed on the situation and the government is understood to be seeing if it can do anything to assist the airline.
Flybe has been in trouble for some time prompting a rescue deal last year from a consortium led by Virgin Atlantic Airways and Stobart Group and the company, known as Connect Airways Ltd, has been trying to streamline the company by reducing its route network, fleet and as revealed by us this week, staff at its Head Office.
Sky News has reported that administrators as EY (Ernst & Young) have been put on standby to handle the collapse of the airline which employs around 2000 people across the UK.
Flybe operates primarily domestic flights across the UK and Ireland as well as to Northern Europe but has faced stiff competition from Low-Cost Carriers as well years of management that tied it up in expensive aircraft leases and maintenance contracts.
The next few days will be crucial for the airline and its future depends on whether it can raise additional financing, whether from its owners or via a government-backed scheme.
A spokesperson for Flybe said: "We don't comment on rumour or speculation." – in a statement almost identical to the one issued 12 months ago before being rescued by Connect Airways.
In an email to staff seen by us, Flybe Chief Executive Mark Anderson said that "I do appreciate that the headlines some of you have already read are disturbing but I want you to know that we are determined to do everything we can to make this work." but stopped short of denying the reports.
Mr Anderson told staff that he was "focused on continuing to turn Flybe, soon to be Virgin Connect, around"
Connect Airways Ltd bought Flybe for a knockdown price in a deal that left a sour taste with many shareholders. Since then it has invested tens of millions into the carrier but has so far been unable to turn the airline around and loses have widened.