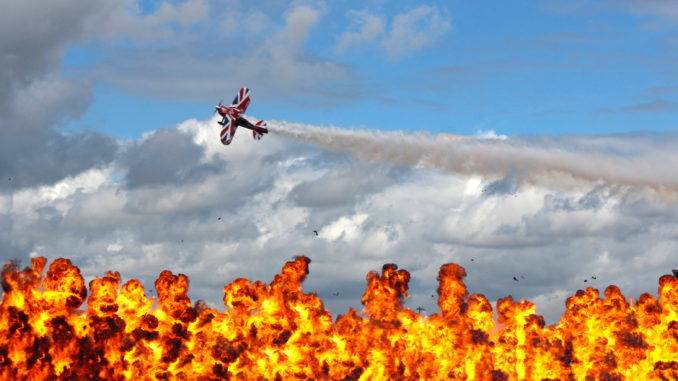 2018 Airshow set for bumper display
With just 4 weeks to go until the bi-annual Farnborough Airshow, we take a look at the top exhibitors and events for both trade and public.
The Farnborough Airshow alternates with Paris as Europes premier aviation trade event. Its held on even years (the next one will be 2020) and operates Monday to Friday for trade and Saturday and Sunday for public displays.
It's a chance for companies to show off their products to potential customers with everything from multi-million-pound airliners through to ground equipment on show.
It is often the place where airlines sign deals and the aviation press will be spending the 5 trade days seeking out the last rumours and deals.
Top exhibitors at Farnborough this year are as expected the major airframers. Airbus expected to show off their latest aircraft, the A350XWB and Boeing showcasing its Max range of the best-selling 737.
Brazillian airframer Embraer will also be displaying its E190-E2 aircraft along with the Legacy 500 & Phenom business jets as it attempts to woo European customers.
All the major engine manufacturers will be exhibiting at the show with Rolls-Royce, GE & Pratt & Whitney all vying to be the choice of airlines as they look to recover from a turbulent time of problems that have hit both Boeing and Airbus aircraft.
For those looking for entertainment in the sky then Farnborough is one of the few airshows where you get fast jets mixing with large commercial airlines. Past displays have seen aircraft like the A380 and 787 carryout crowd-pleasing take offs in order to show off their flexibility.
2Excel Aviation is back again this year with their Oil Response 727 along with a rare appearance from an AV8-B Harrier jump jet. An F16 Fighting Falcon will also help satisfy the appetites of fast jet fans.
The Flying Bulls will have a strong contingent at this years show with aircraft including a DC6B, B25 Mitchell, P38 Lightning, F4 Corsair, Alphajet and Bo-105 & Sycamore Helicopters.
Other aircraft flying on Saturday and Sunday include a Spitfire, a Sea Fury, the Blades aerobatic team and RAF Chinook,.
The AeroSuperBatics Wingwalkers will also be there with the girls showing off their acrobatic prowess on the wings of 1930's Boeing Stearman aircraft.
For a full list of displaying aircraft and to stay up to date then visit https://www.farnboroughairshow.com/public/aircraft/
If you want to visit the show then tickets in advance cost £42 for adults and free for children under 16. The show runs from 16th to 22nd July with public days on the 21st & 22nd July.
Watch how Boeing prepared the 787 Display for the Paris Airshow 2017