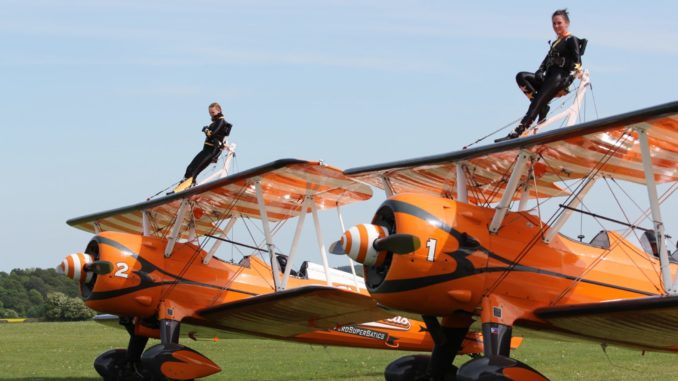 We meet the girl who answered the call and became a Wingwalker!
Last year we published a story on Wingwalking, in particular, AeroSuperBatics search for a new Wingwalker for 2018 so we sent Aviation Wales' "upper wing balancing expert" Nick Harding along to meet the lucky applicant who gets to spend their summer with the best view in the sky!
Pulling up the at the beautifully manicured Rendcomb airfield is a treat for anyone interested in Aviation. Nestled in the Cotswolds near Cirencester it is a private airfield that is home to some classic and unique aircraft.
I wasn't here to see those though, I was here to meet Kirsten, the person selected from hundreds of applicants to become AeroSuperBatics' new Wingwalker.
As soon as you meet Kirsten you can't help but get a sense of the sheer excitement she has about the job. Talking about the application process and the demo flight the smile on her face was evident as if she was reliving the experience as she was saying it.
Kirsten told us she saw the job advert and applied not thinking "in a million years" she would get the job but after two interviews and (eventually due to weather) a demo flight she did get the job and now she is well into her training and preparing for her first airshow.
Training alongside Katie, a 2-year Wingwalking veteran at AeroSuperBatics, she learns the display routines, initially on the ground before progressing onto the aircraft and flying the displays practices. Kirsten admits to being nervous when doing a manoeuvre she hasn't done before but as soon as it's done she always wonders why she was nervous. Although Kirsten definitely prefers being on the aircraft as she finds watching from the ground is much scarier!
The two girls have very different backgrounds. Kirsten comes from a background that one might expect for a Wingwalker, her previous role was as a teacher in a circus school. Katie, however, grew up working on the family farm.
After a chat with Kirsten and Katie, they went through their walkthrough before taking to the skies on a practice flight, something that on a small airfield like Rendcomb gives you a much more close up view of the routines which were performed flawlessly.
The team certainly looks ready for the busy airshow season ahead and along with Club Days and private bookings, will no doubt be flying at every opportunity.
Watch what happened when we met Kirsten and Katie at Rendcomb Airfield
Flying on the wing of a 1930's Boeing Stearman is not just for the professionals though, thanks to AeroSuperbatics Go Wingwalking anyone can get the experience. You can book your very own Wingwalking experience or for buy it for someone you love at GoWingwalking.com