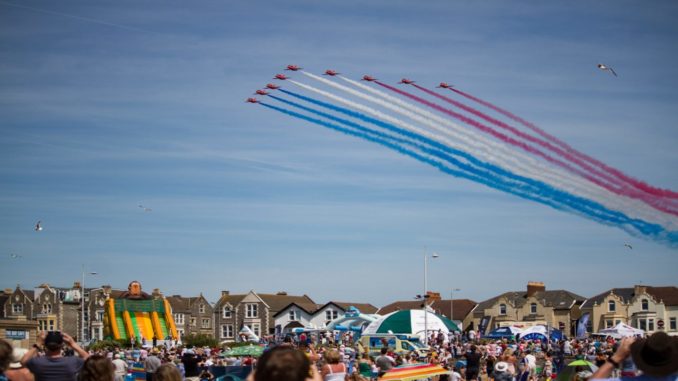 RAF100 celebrated at Weston Air Festival
Held annually, this free event takes place along the seafront with family attractions on the Beach Lawns. As always a mixture of flying displays from acrobatic aircraft, historic aircraft and modern fighter jets combined with a celebration of our armed forces with active ground demonstrations , exhibits and bands to include The Royal Marines Plymouth , The Devon & Somerset Fire and Rescue Pipes & Drums , all combined to entertain the large crowds of enthusiasts and families on this hot and sunny day.
There were also some static helicopters parked up to look over, these included a Westland Whirlwind,  The oldest flying British helicopter The Bristol Sycamore, Gazelle, a Danish Airforce AS550 Fennec, and a beautiful white civilian Gazelle.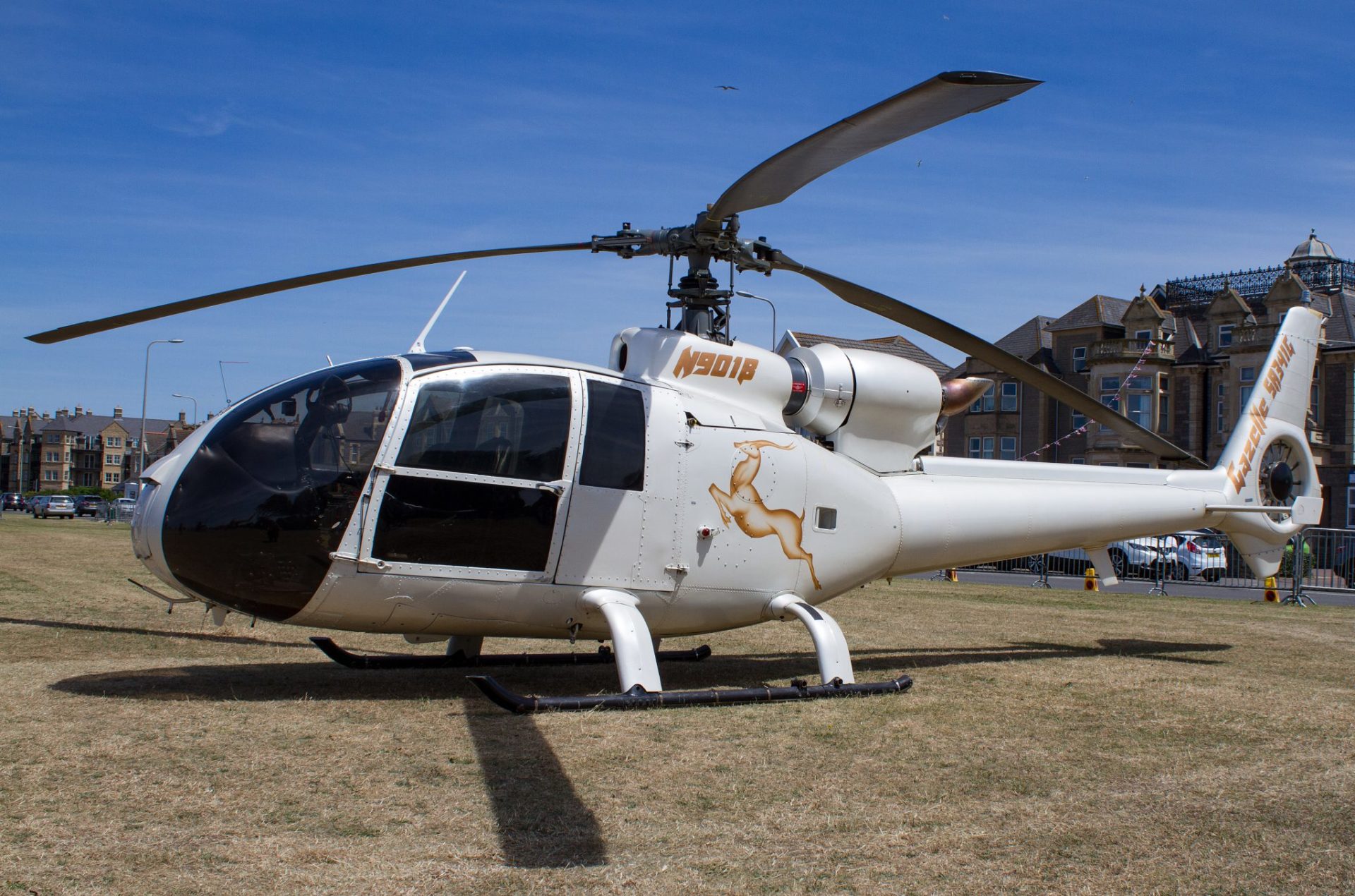 If that wasn't enough there were fairground rides and other attractions, enough to keep any family happy all day long. The flying display started at 13.00, and continued until 16.45, followed by the static helicopter departures. A bit later in the evening, some Hot Air balloons lifted off from the beach.
Here are some of the highlights of the show.
Battle of Britain Memorial Flight
Opening the show in style were the iconic Royal Air Force Battle of Britain Memorial Flight (BBMF) based at RAF ConingsLincolnshire. Always a crowd pleaser flying their World War two aircraft to include an Avro Lancaster bomber, Douglas Dakota , Supermarine Spitfire and Hawker Hurricane. The BBMF is a regular RAF unit, manned by Service personnel and funded by the Ministry of Defence. The Flight's aircrew are volunteers , all of whom have primary duties in the RAF and who fly the BBMF aircraft mainly in their own time. These aircrew give up effectively 3 out of every 4 weekends in order to fly and display the historic aircraft of the Flight. https://www.raf.mod.uk/display-teams/battle-of-britain-memorial-flight/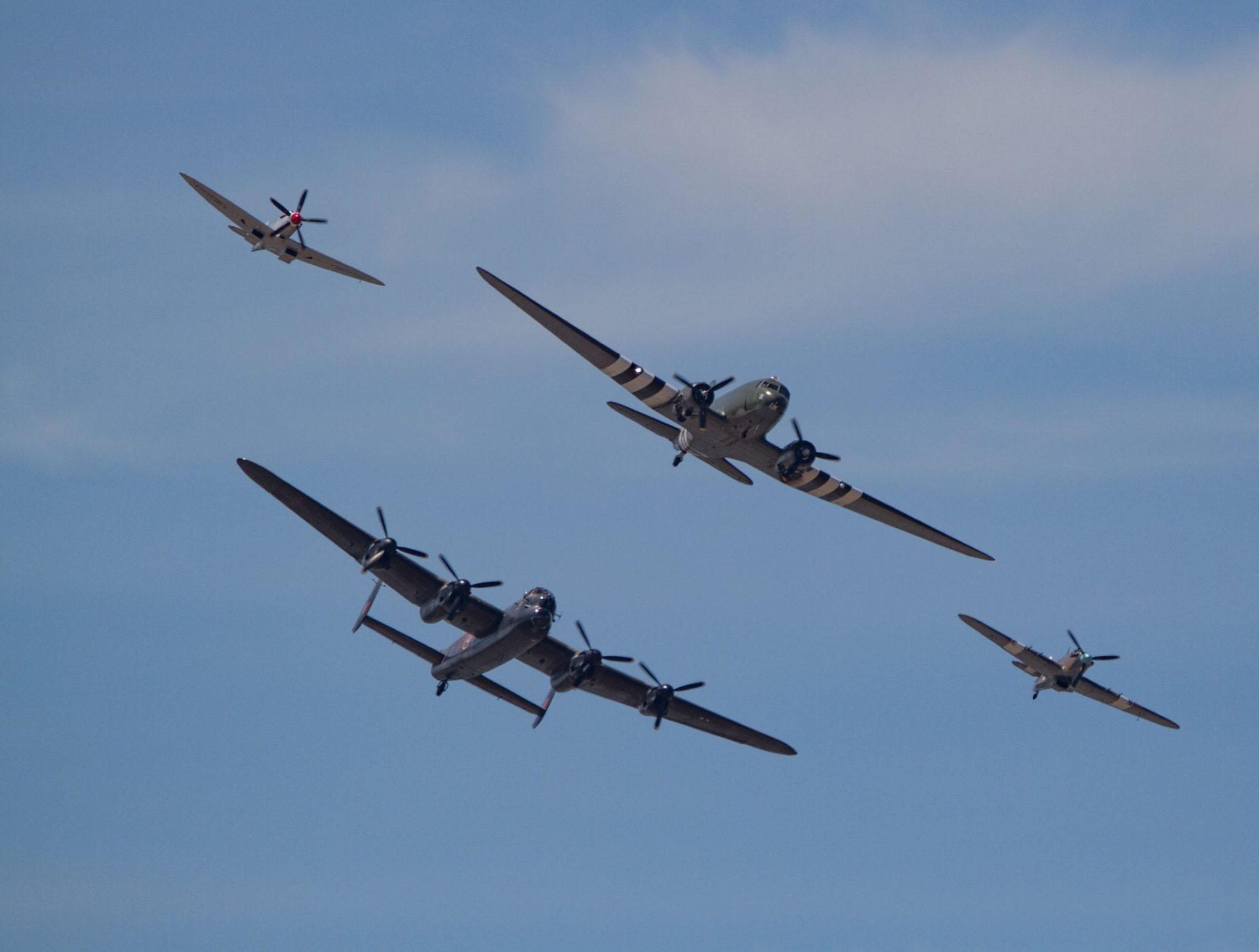 Strikemaster Display Team
The Strikemaster BAC167 Mk82A was built by the British Aircraft Corporation at Warton in Lancashire. It was built as a light ground attack version of the Jet Provost. The Strikemaster was never operated by the RAF but was successfully exported abroad to countries such as Equador, Oman and New Zealand. This particular aircraft, an ex Oman Airforce jet, is owned and flown by Mark Petrie. http://www.nwmas.com/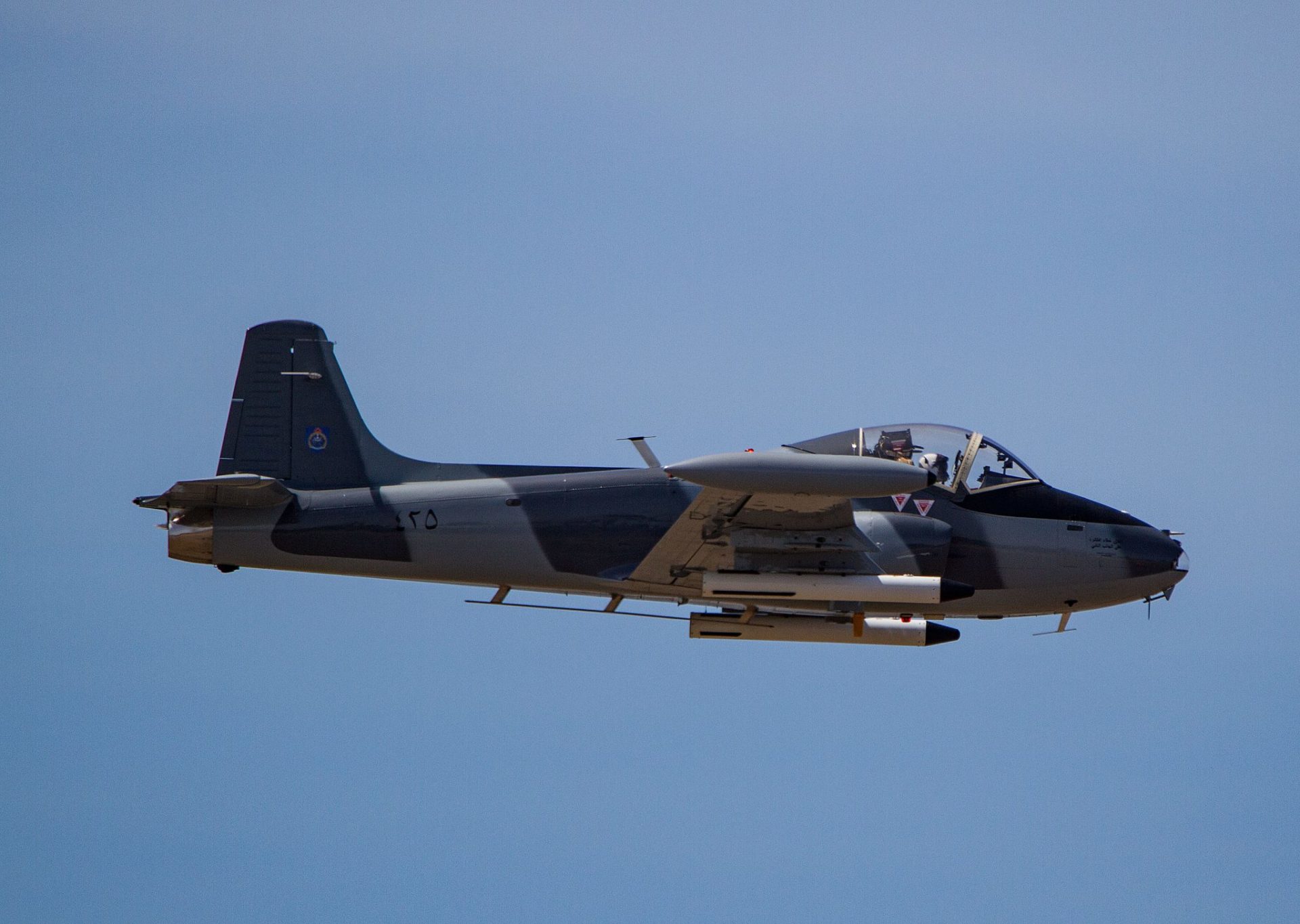 Flying Bulls
What an incredible display this put on! Most people think Helicopters cant go upside down. Wrong, this one can, in fact, it was the first civilian helicopter certified for aerobatics. It has a very special unhinged rotor head, enabling the extremely dynamic performance display at this show. A very welcome visitor to the UK indeed. https://www.flyingbulls.at/en/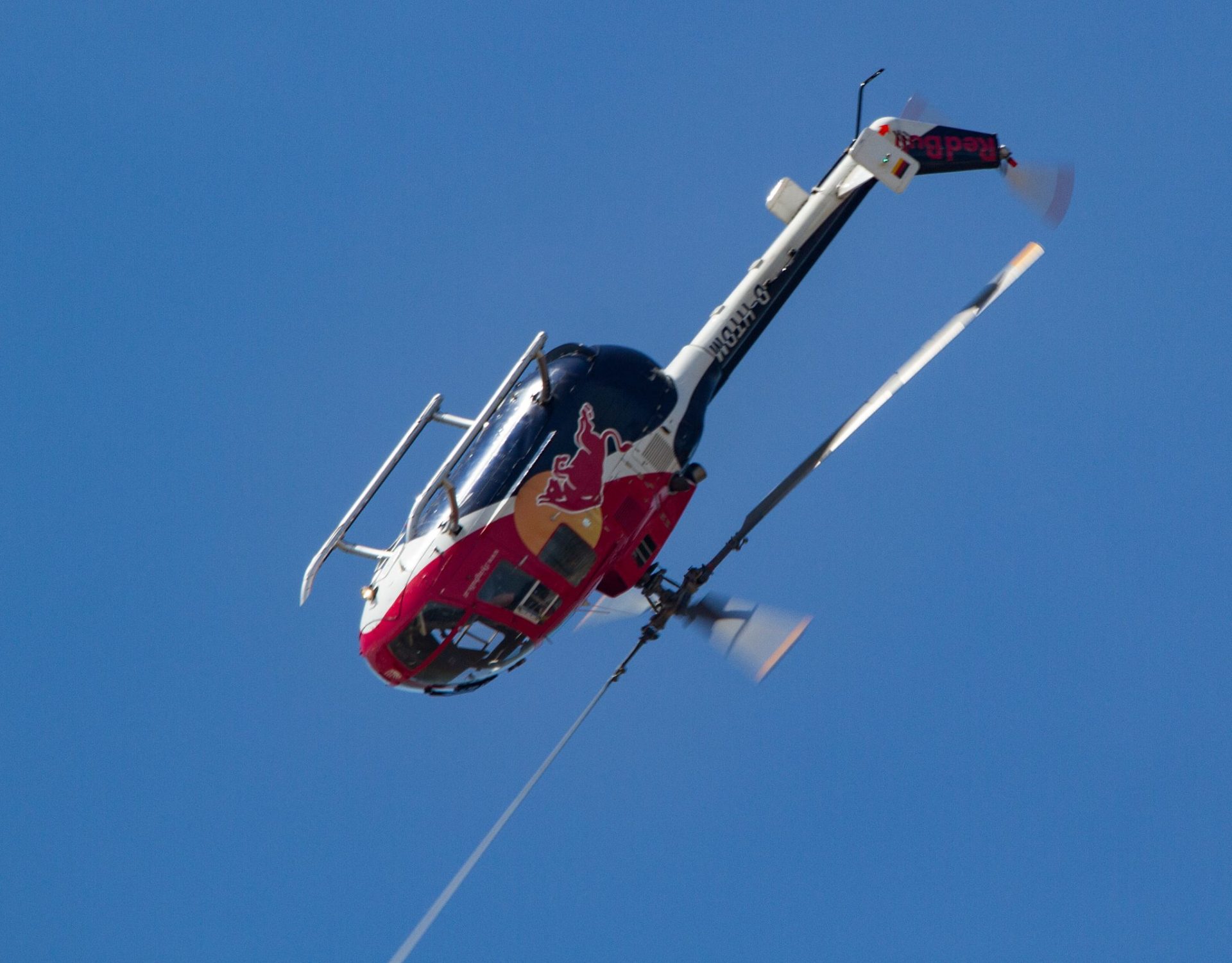 Royal Air Force Red Arrows
As has been the case since 1979 the Red Arrows based at RAF Scampton, flew the Bae Hawk T1 Aircraft
The Red Arrows Team for 2018 is as follows:
Red 1 – Team Leader – Squadron Leader Martin Pert Red 2 – Flight Lieutenant Jon Bond Red 3 – Squadron Leader Mike Ling Red 4 – Flight Lieutenant Chris Lyndon-Smith Red 5 – Flight Lieutenant Dan Lowes Red 6 – Synchro Leader – Fight Lieutenant Si Taylor Red 7 – Synchro Two – Flight Lieutenant Toby Keeley Red 8 – Flight Lieutenant Matt Masters Red 9 – Flight Lieutenant Mike Bowden The display commentator and team supervisor is Squadron Leader Adam Collins and is known as Red 10, as is usual He arrived prior to the display in a DHFS Juno helicopter in order to asses site safety and weather conditions, and then left after the Reds had performed their display. https://www.raf.mod.uk/display-teams/red-arrows/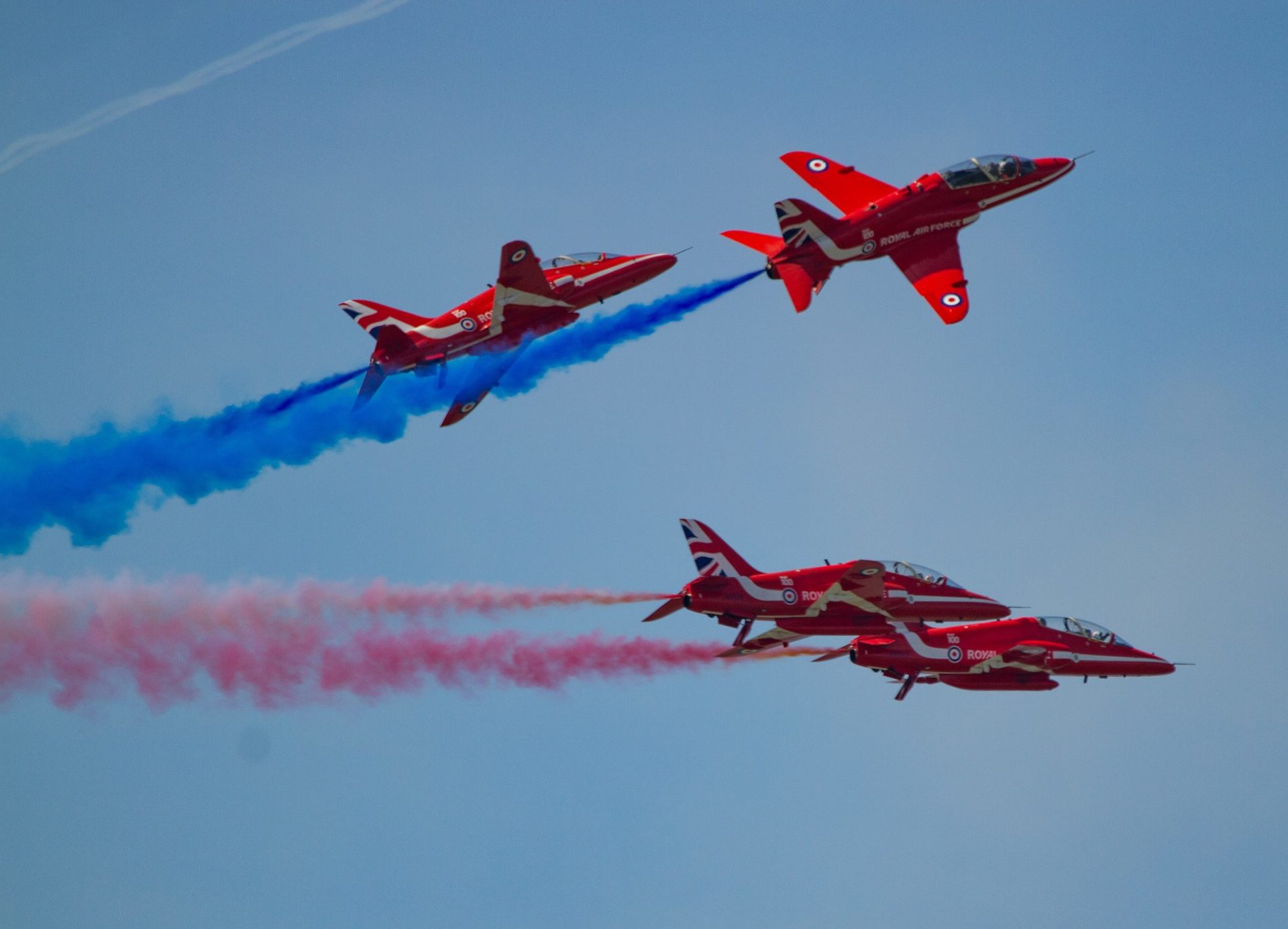 MUSTANG P51
The North American P-51D Mustang 44-72035 "Tall In The Saddle" owned and operated by Hanger 11, based at North Weald in Essex and flown by Peter Teichman in his final display. This beautiful aircraft wears the original colours and detail she had during WW2 in service with the 332nd Fighter Group, 99th Fighter Squadron. The fact that she has never had a major rebuild and is almost totally as built in 1944 makes this a rare and special P-51. http://www.hangar11.co.uk/index.html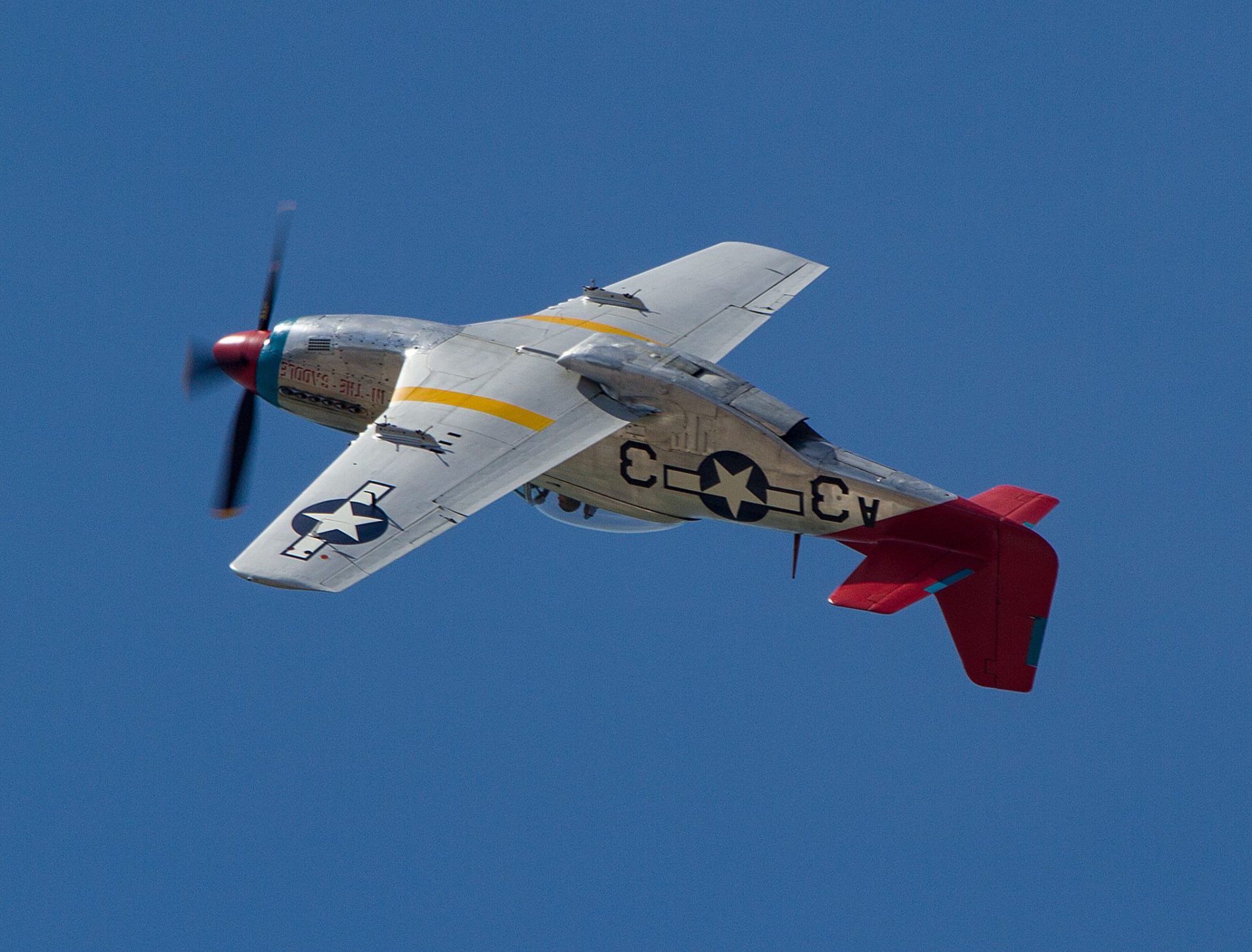 Autogyro
Autogyro's where invented by Juan de la Cierva, only 20 years after the Wright Brothers first flight, they marked a departure from conventional fixed-wing aircraft in an attempt to invent an aircraft that couldn't STALL. The name autogiro was a Trade name for Cierva's make of aircraft, nowadays, they are also known as gyrocopters, gyroplanes, and autogyro's and just Gyro's, they were the first rotary-wing aircraft to fly successfully under full, safe control. They rely on a phenomenon known as autorotation, where the airflow makes them spin by the aerodynamic forces of the airflow through the disc of the rotor and over the blades, exactly the same way a windmill blade turns. No Power, just the wind. Due to their low speed and low energy, the Gyro Display has special clearance from the CAA to fly 50m from the Crowd line at 100ft or less This RotorSport Calidus Autogyro was expertly displayed by Peter Davies, thrilling the crowds at the extremely agile and dynamic display he put it through. http://www.gyro-air-displays.co.uk/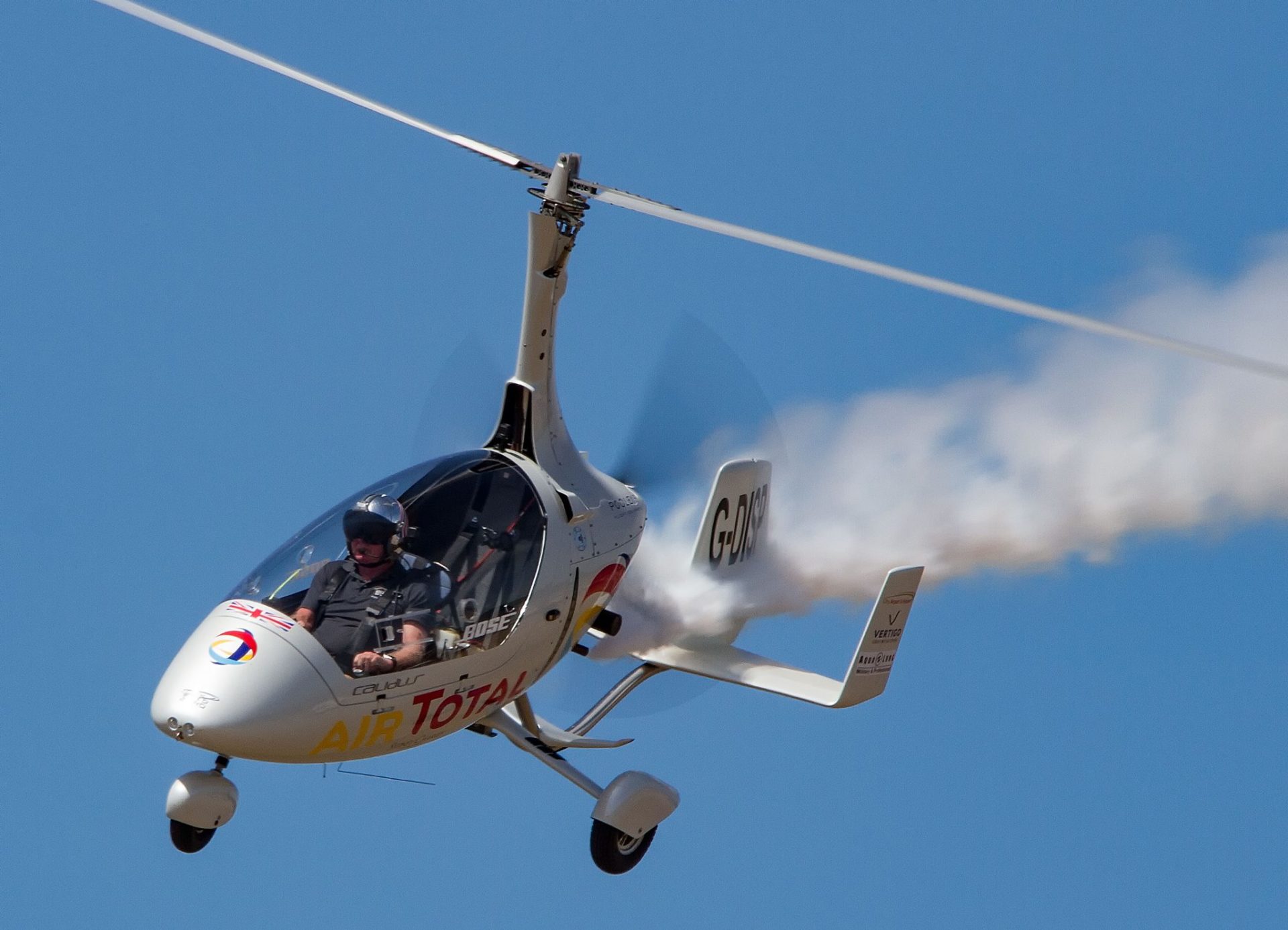 AeroSuperBatics Wingwalkers
Aero Superbatics is the world's only aerobatic formation wingwalking team. They displayed in their Super Stearmans driven by 450 hp radial engines performing breathtaking manoeuvres include, loops, rolls, stall turns and even inverted flight and all with a girl on top of each wing!
During all of this, the wingwalkers, Kirsten and Katie experience speeds of up to 150 mph and 'G' forces of up to 4G while balanced on top of the wing. Fancy a go at wingwalking? ….well you can if you want to. Find out how here.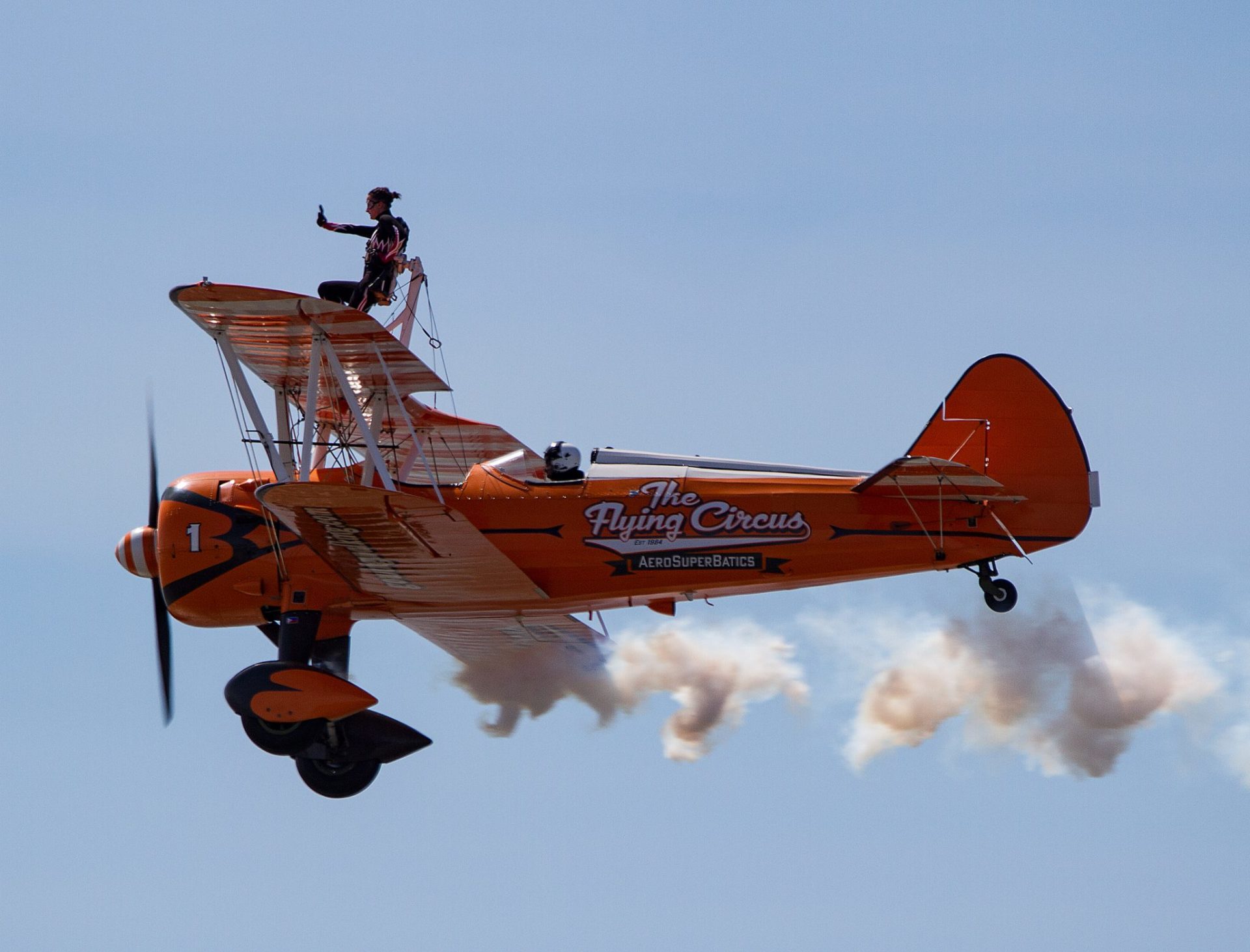 Team raven
Team Raven is a formation aerobatic display team that formed in May 2014 using Van's RV aircraft with a mix of one RV4 and five RV8s. All are self build aircraft, albeit only Ravens 2 and 4 have been self-built by the Team. They are of all aluminium construction and use standard Lycoming io-360, 180hp engines coupled to constant speed propellers. This team put on a wonderful display of synchronised precision aerobatics, thrilling the crowd with stalls, high speed turns and rolls and formation aerobatic stunts.
Flown by 1 – Simon 'Sid' Shirley , RV4 – (G-MAXV) 2 – Steve Lloyd ,RV8 – (G-CJSM) 3 – Barry Gwynnett ,RV8 – (G-EGRV) 4 – Gerald Williams ,RV8 – (G-CIBM) 5 – Mark Southern ,RV8 – (G-SOUT) http://www.ravendisplayteam.com/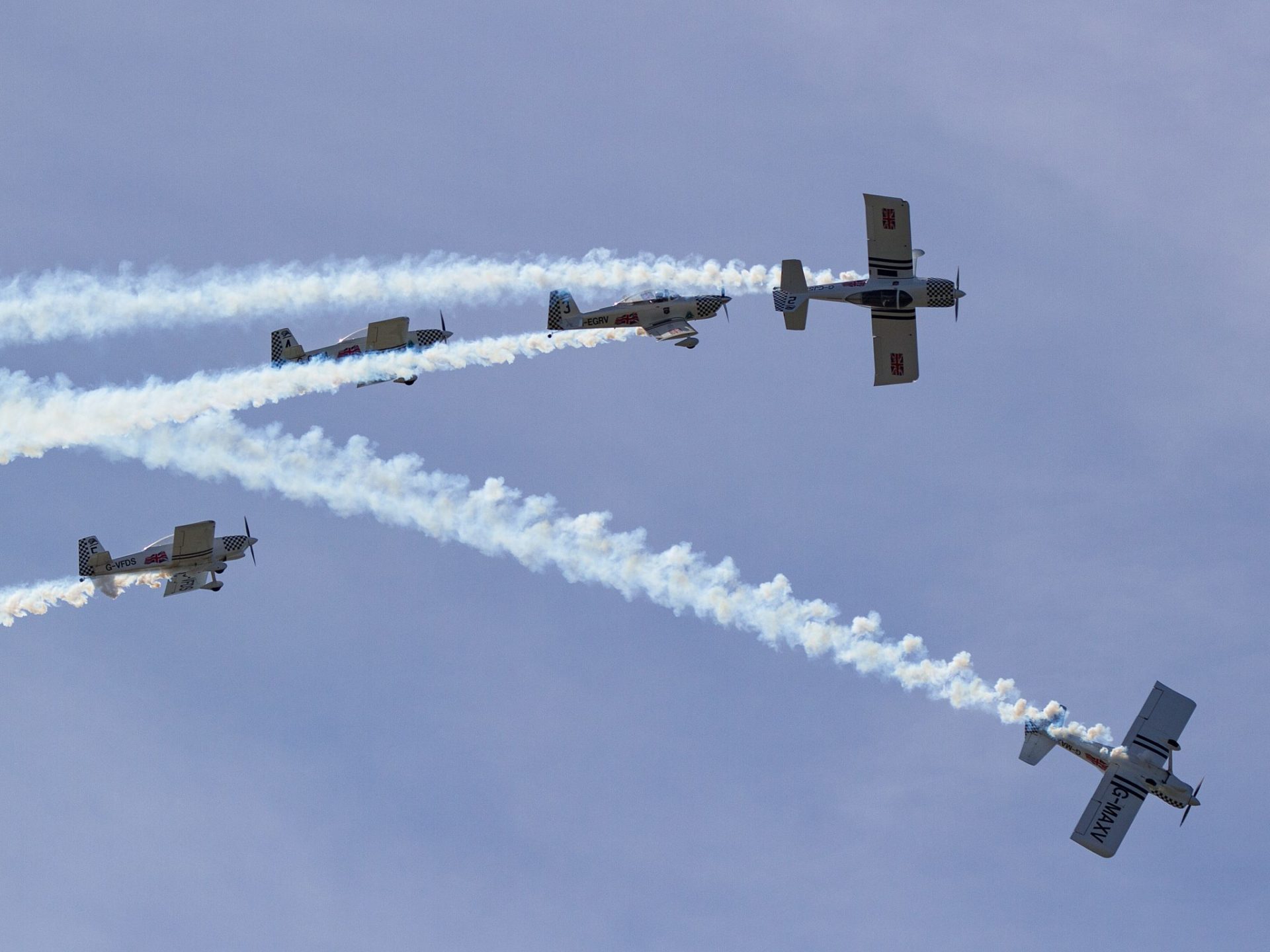 The Gazelle Squadron
The Gazelle Squadron Display Team was established in 2014, The Squadron consists of around 35 volunteers who supply their time and skills throughout the year to ensure all aircraft are displayed in prime condition. Based at their private airfield near to Hurstbourne Tarrant in Hampshire These helicopters were a great sight reminding many enthusiasts of these aircraft in military service with the Army Air Corp, RAF and Royal Navy. This year an ex-Royal Airforce model was on static display with a nice civilian coloured one performing the flying display. http://www.gazellesquadron.co.uk/about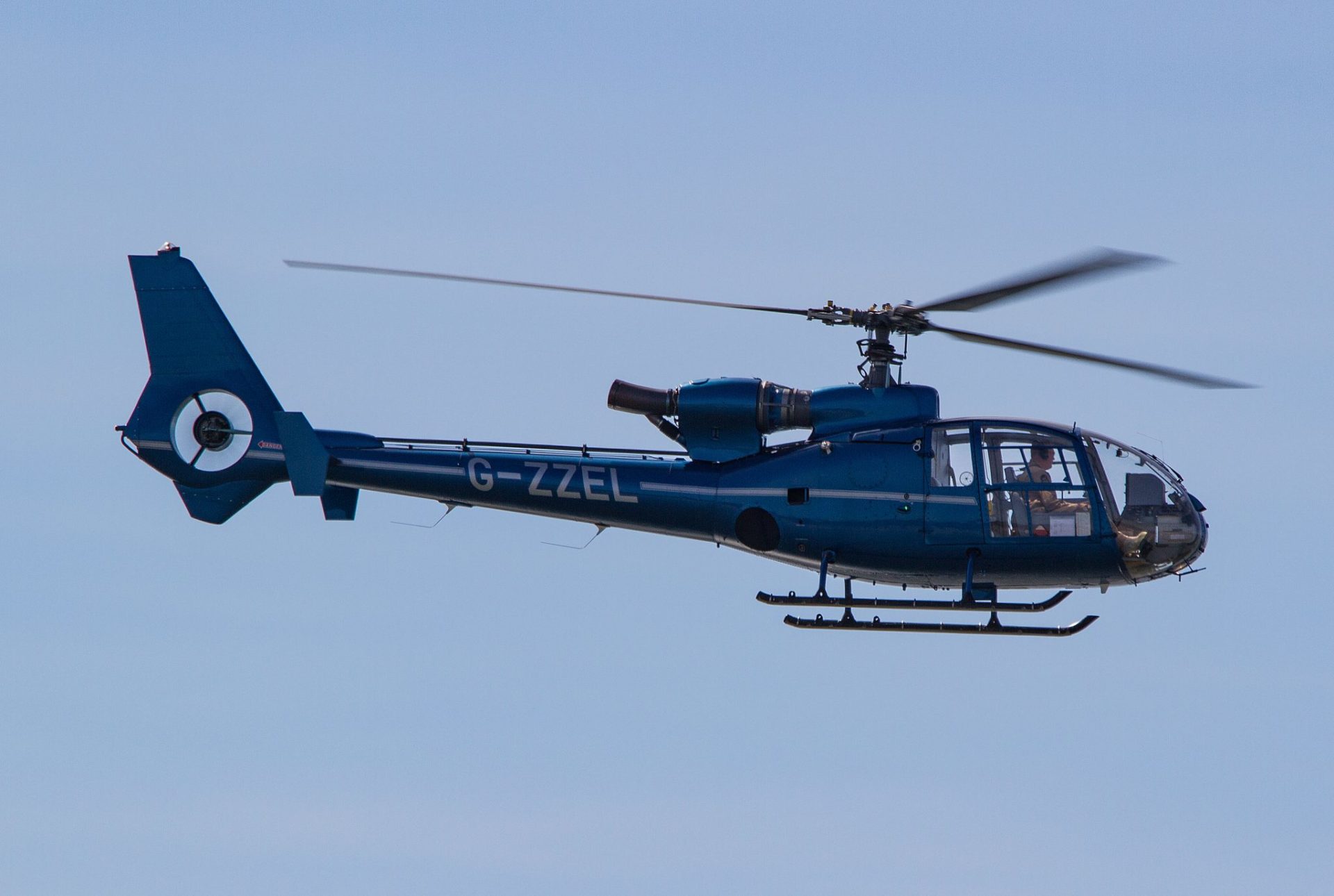 RAF TYPHOON
Closing the display was the RAF Typhoon fighter jet, Flown by Flt Lt Jim Peterson, putting on a display of noise, speed and agility. The Typhoon is our multi-role combat aircraft capable of Air defence tasks, precision ground attack and everything in between. Fully loaded the Aircraft can climb to 35,000ft from releasing the brakes in 90 seconds powered by the incredible EF200 engines. The top speed of this fighter is in excess of 1300mph with a maximum altitude of 65000ft and a maximum range of 1800 miles. WOW, what a display and what a show, and all for free!!