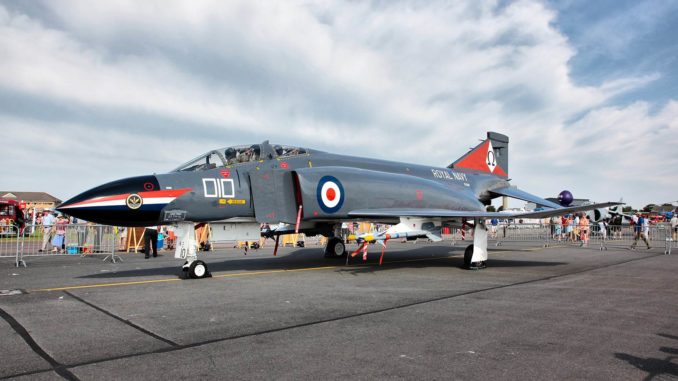 The 2017 RNAS Yeovilton Air Day is ready for take-off with some fantastic displays showcasing naval aviation from around the world lined up for this years event.
This year marks the 70th Anniversary of the RNAS Yeovilton International Air Day and with around 40,000 people expected to attend this years show, it is certain to be one of the biggest events in the region.
It takes place on Saturday 8th July 2017 at RNAS Yeovilton in Somerset.
The RNAS Yeovilton Air Day will include modern front line aircraft such as the Eurofighter Typhoon and Dassault Rafale through to rare naval heritage aircraft including Swordfish, Sea Fury and Skyraider.
Helicopters fans are well catered for too with the Merlin, Lynx Wildcat and Apache making an appearance.
An spokesperson for RNAS Yeovilton Air Day said the 5 hour long flying programme will include: "Airshow favourites from the RAF include the Red Arrows, Typhoon, and Battle of Britain Memorial Flight to showcase the Best of Britain. While our military guests from across Europe will put on roaring displays, with the highlights being the French Navy Rafale pair, Belgian and Danish Air Force F-16s, Czech Air Force Gripen and a rare and dazzling appearance by the Swiss Air Force national display team – The Patrouille Suisse.  Other allied nations will provide static displays offering visitors an opportunity to meet the aircrew and view the aircraft up close, with the US Air Force's mammoth C-17 Globemaster a real favourite with children."
Tickets are available in advance from http://www.royalnavy.mod.uk/yeovilton-airday
Full List of Participating Aircraft
ROYAL NAVY (Flying)
Raiders Parachute Display Team
Wildcat HM2 x 2 – Maritime Role Demo
Merlin HM2
ROYAL NAVY (Static)
Wildcat HM2 x 2
Merlin HM2
Merlin HC3/i3
Sea King ASaC7
Avenger T1
Hawk T1
BRITISH ARMY (Flying)
Attack Helicopter Display Team – Apache AH1
BRITISH ARMY (Static)
Apache AH1
Wildcat AH1
Defender AL2
ROYAL AIR FORCE (Flying)
Typhoon Display Team – Typhoon FGR4
Red Arrows Display Team – Hawk T1 x 9
ROYAL AIR FORCE (Static)
Typhoon FGR4
Tucano T1
FOREIGN MILITARY (Flying)
Rafale M x 2 – French Navy
Atlantique 2 – French Navy
Patrouille Suisse F-5E Tiger II x 6 – Swiss Air Force
F-16AM Fighting Falcon – Belgian Air Force
JAS 39C Gripen – Czech Air Force
L-159 ALCA x 2 – Czech Air Force
F-16AM Fighting Falcon – Royal Danish Air Force
FOREIGN MILITARY (Static)
Lynx HAS4 – French Navy
L-159 ALCA – Czech Air Force
NH90 NFH – Royal Netherlands Navy
M-28B1B Bryza – Polish Navy
F-16 AM Fighting Falcon – Belgian Air Force
F-16 AM Fighting Falcon – Royal Danish Air Force
C-17A Globemaster III – United States Air Force
Lynx Mk90B x 2 – Royal Danish Air Force
CLASSIC MILITARY & COLD WAR ERA (Flying)
MiG-15UTI – Norwegian Air Force Historical Flight
Whirlwind HAS10 – Liftwest
CLASSIC MILITARY & COLD WAR ERA (Static)
F-4K Phantom FG1 – Royal Navy
Sea Harrier FA2 x 2 – Royal Navy
Sea Venom FAW21 – Fleet Air Arm Museum
Sea King HAS5 – Fleet Air Arm Museum
Wessex HU5 – Fleet Air Arm Museum
Gazelle x 3 – The Gazelle Squadron
Meteor T7 x 2 – Martin-Baker
Chipmunk T10 – Private
VINTAGE & WARBIRDS (Flying)
AT-6D Texan – Kennet Aviation
Swordfish W5856 – Royal Navy Historic Flight (TBC)
Sea Fury T20 – Royal Navy Historic Flight (TBC)
VINTAGE & WARBIRDS (Static)
Swordfish LS326 – Royal Navy Historic Flight
Sea Fury FB11 – Royal Navy Historic Flight
Spitfire – Battle of Britain Memorial Flight
Hurricane – Battle of Britain Memorial Flight
Lancaster – Battle of Britain Memorial Flight
Bristol Scout Type C – David Bremner
Auster AOP9 – Private
Reliant I – Private
L3B Defender – Private
AD-4NA Skyraider – Kennet Aviation
CIVILIAN (Flying)
Extra 300L x 4 – Royal Jordanian Falcons Display Team
Pitts S-2S – Richard Goodwin
CIVILIAN (Static)
Yak 52 x 3 – Private
Yak 18A – Private
Yak 18T – Private
Boredom Fighter – Private
F-35 Lightning II (Full Scale Model) – Lockheed Martin