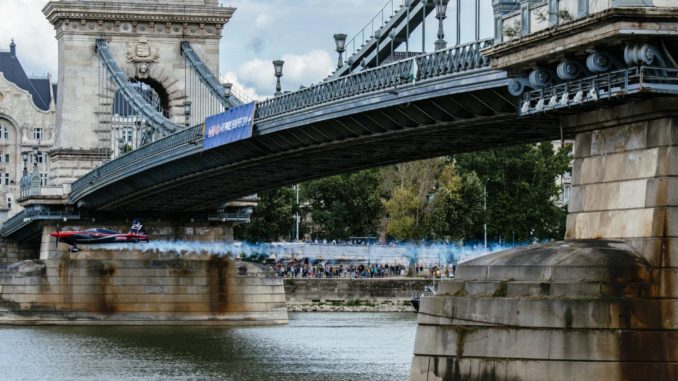 Czech Martin Sonka wins Budapest round
Ben Murphy secured a solid 8th place in the Budapest Air Race yesterday.
Ben, who qualified in 8th place, blast through the masterclass round of 14 by beating two-time champion Kirby Chambliss with a time of 59.996.
The round of 8 saw Ben pitted against an in-form Michael Goulian. Both pilots were awarded penalties in the round but Ben's 4 seconds of added time saw him lose out 59.486s to 1.02.264s.
Ben said: "It was fantastic here this week; a lot of firsts and obviously flying under the bridge. We got through to the Round of 8 again so that's in 50 per cent of our races so far, so we're very happy. Arguably, and with the benefit of hindsight, we pushed a little too hard in the heat against Mikey Goulian, but our tactic was that we knew we had to push, but just a little too hard. We got more points on the championship board and just the experience of getting through to the Round of 8 again is a massively valuable learning experience for us. The plane is performing well, the team is performing well, and we'll just carry on with the way we're going."
Czech pilot Martin Sonka was the overall winner
Full Budapest Results
| | | | | | |
| --- | --- | --- | --- | --- | --- |
| Rank | Pilot | Country | Time | Pentalties | Points |
| 1 | Martin Sonka – Winner | CZE | 0:57.502 | 0:00.000 | 15 |
| 2 | Mika Brageot | FRA | 0:57.849 | 0:00.000 | 12 |
| 3 | Matt Hall | AUS | 0:58.163 | 0:00.000 | 9 |
| 4 | Michael Goulian | USA | 1:04.256 | 0:07.000 | 7 |
| 5 | Francois Le Vot | FRA | 0:58.786 | 0:00.000 | 6 |
| 6 | Cristian Bolton | CHI | 0:59.124 | 0:00.000 | 5 |
| 7 | Nicolas Ivanoff | FRA | 1:00.249 | 0:00.000 | 4 |
| 8 | Ben Murphy | GBR | 1:02.264 | 0:04.000 | 3 |
| 9 | Petr Kopfstein | CZE | 0:59.465 | 0:00.000 | 2 |
| 10 | Kirby Chambliss | USA | 0:59.528 | 0:02.000 | 1 |
| 11 | Yoshihide Muroya | JPN | DNF | 0 | 0 |
| 12 | Pete McLeod | CAN | DNF | 0 | 0 |
| 13 | Juan Velarde | ESP | DNF | 0 | 0 |
| 14 | Matthias Dolderer | GER | DNS | 0 | 0 |