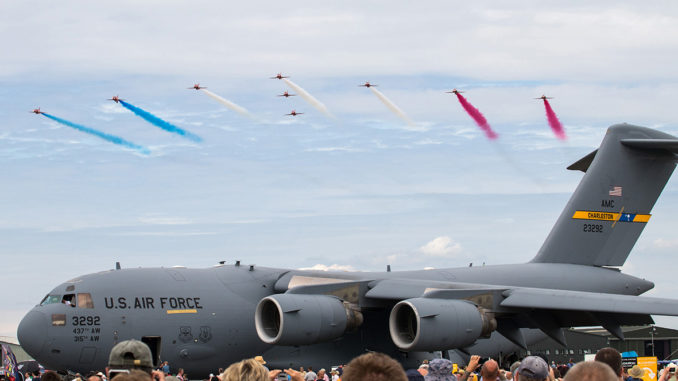 UK Debut of the French Navy's Cocardes Marine
The 2018 Yeovilton Air Day could be the best ever judging by this years line up of both flying and static displays.
The Air Day, which takes place on Saturday 7th July 2018 at RNAS Yeovilton, sees confirmed displays including the Canadian CF/16 in a special NORAD 60 scheme, the Greek F16 "Zeus" along with favourites such as the Red Arrows, Royal Jordanian Falcons and Navy Wildcats.
This year Yeovilton Air Day will showcase aircraft from 14 nations, the largest international contingent in 20 years,  across a 5 to 5 1/2 hour air display including role demo's from the Royal Navy & Army Air Corp as RNAS Yeovilton helps celebrate 100 years since the end of World War 1. There will be involvement from the Royal Air Force too with the Eurofighter Typhoon Display Team and the Red Arrows showing off for RAF100.
One of the several special events at this year's air day will be the UK debut of the "Cocardes Marine".  The Cocardes Marine will see historic and modern French Navy aircraft including a pair of Dassault Rafale jets, an Atlantique 2 and Zephyr & Paris fighters flying together, before breaking off into individual routines. The display will belong to the French Navy for around 40 minutes.
Another first for any UK airshow will see Navy Wings historic Sea Fury fly in formation with the Norwegian Historic Air Force's Mig 15, the two aircraft haven't shared the same sky since the Korean where at least one Mig 15 was shot down by a Fleet Air Arm Sea Fury.
Helicopter fans won't be disappointed with the UK's first air show appearance of the Austrian Flying Bulls with the aerobatic BO105 Helicopter and the worlds only flying Bristol Sycamore, the first helicopter to enter service with the Royal Air Force. The Navy will also be showing its latest Merlin & Wildcat helicopters on both flying and static duties.
In another first for Yeovilton Air Day, the Lithuanian Air Force will be participating for the first displaying static aircraft including a Mi-8 "Hip" Helicopter and L-39 Albatross trainer.
Static aircraft will include some giants including a Netherlands Air Force KDC-10 Tanker, Candian C130 Hercules and a USAF C17 Globemaster III. Visitors to the show will have the chance to walk around and inside these giants of the military aviation world.
Tickets are available for Yeovilton Air Day 2018 and cost £24 (in advance) £30 (on the day) for adults, £7 and £10 for children between 5 & 15yrs.
Confirmed Aircraft
Royal Navy – Flying
Swordfish I – Royal Navy Historic Flight
Sea Fury T20 – Royal Navy Historic Flight (New update)
Sea King ASaC7 (New update)
Royal Navy – Static
Swordfish II – Royal Navy Historic Flight
Sea Fury FB11 – Royal Navy Historic Flight (New update)
F-4K Phantom FG1
Sea Harrier FA2
Royal Air Force – Flying
Chinook HC6A (New update)
Typhoon FGR4
Hawk T1 x 9 – The Red Arrows Aerobatic Team
Dakota III – Battle of Britain Memorial Flight
Spitfire x 2 – Battle of Britain Memorial Flight
Foreign Military – Flying
CF-18 Hornet Demo Team – Royal Canadian Air Force
Rafale M x 2 – French Navy
Atlantique 2 – French Navy
JAS 39C Gripen – Czech Air Force
L-159 ALCA – Czech Air Force
F-16C Fighting Falcon Demo Team 'Zeus' – Hellenic Air Force
F-16AM Fighting Falcon – Royal Danish Air Force
F-16AM Fighting Falcon – Belgian Air Force
Extra EA330LX x 4 – Royal Jordanian Falcons Display Team
Foreign Military – Static
Mi-8 'Hip' – Lithuanian Air Force
L-39 Albatros – Lithuanian Air Force
Lynx HAS4 – French Navy
NH90 Caiman – French Navy
Falcon 50M – French Navy
CC-130J Hercules – Royal Canadian Air Force
KDC-10 Extender – Royal Netherlands Air Force
AS532U2 Cougar – Royal Netherlands Air Force
NH90 NFH – Royal Netherlands Navy
Classic Jets & Cold War Era Types – Flying
Bristol 171 Sycamore – The Flying Bulls
CM.175 Zéphyr – Cocardes Marine (New update)
MS.760 Paris – Cocardes Marine (New update)
MiG-15 – Norwegian Air Force Historical Squadron (New update)
Classic Jets & Cold War Era Types – Static
 Auster AOP9 – Private
Auster AOP6 – Private
0-1A Bird Dog – Private
Sea Vixen FAW2 – Naval Aviation Ltd
Civilian – Flying
Bo105C – The Flying Bulls
 Pitts S-2S 'Muscle Biplane' – Rich Goodwin
2018  A Year of Engineering
Another theme for 2018 is STEM which will see Air Day collaborating with fantastic interactive and knowledgeable professionals in the Lockheed Martin sponsored STEM Hangar. The hangar will allow next generation of engineers get hands-on by making their own rockets and using virtual reality flight simulators, there's something for all ages to learn about the fascinating cutting-edge technologies that are around us every day.
Other activities include:
In the arena, RNAS Yeovilton will be seeking glory against RNAS Culdrose in the hotly-contested Fleet Air Arm Field Gun competition.
Other arena action will include The Band of Her Majesty's Royal Marines – musical excellence and marching combined.
Take a break from all the action by pulling up a chair and enjoying the HMS Heron Volunteer Band's and Yeovilton Military Wives Choir's hangar performances.
Optimus Prime and his good friend Bumblebee will be at the forefront of our extensive vehicle exhibition which will include military vehicles, classic cars and an array of high-performance supercars courtesy of the Sporting Bears.
Trade stalls or, for the more adventurous thrill-seekers, enjoy the flight simulators, helicopter pleasure flights and fairground rides.