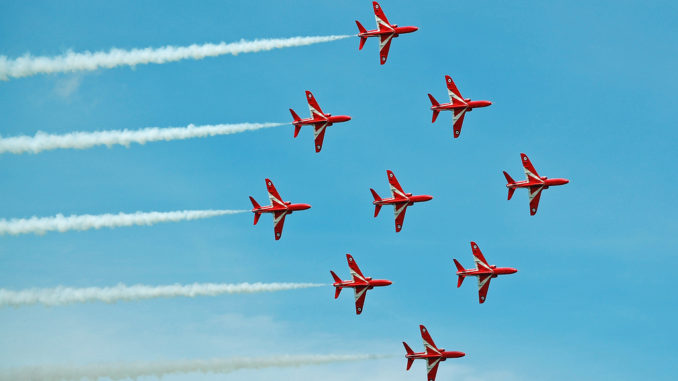 The Scottish International Airshow have announced that they have no choice but to cancel this years event after South Ayrshire Council withdrew funding and "in-kind" support for the Airshow.
This means that airshow organisers have no choice but to cancel all the aircraft booked to display at the event as well as the sub-contractors and traders who had bought pitches.
In a statement, the organisers said "Since 2013 we have worked with a series of people in South Ayrshire Council. In total we had multiple detailed planning and operational meetings with eight key people – seven of them are no longer in post. The Council Leader and deputy Leader have also changed and have limited understanding of how the Airshow has been built and run as a partnership between Airshow Scotland Ltd and South Ayrshire Council. All of our 2020 Airshow company's core team have been working together since 2014 and have in depth knowledge of how the event was set up and the practical steps and agreements that have successfully delivered five massive Airshows in Ayr.
"We asked to meet with South Ayrshire Council leaders numerous times to talk about the dispute with the Airshow. They would not meet with us.
"We asked that we attend the meeting of the Councillors last week to explain what has happened and why the Airshow could still go ahead. They refused to talk to us and held their meeting in private. The reason that one local resident was given for holding the meeting in private was that they were going to discuss the finances surrounding the Airshow contract, which was exactly what we had asked to discuss with them, so we remain puzzled as to why meeting with us was not the best course of action. We have no idea what information and advice they were given and we despair at the lack of leadership shown in the Council's actions.
"We did ask that the Council talk to us before they send out any press statements. They haven't spoken with us or contacted us or sent us a copy of their statements.
"There were no breaches of the Airshow contract."
The airshow was due to take place on the 4th, 5th and 6th September 2020 on Ayr Seafront and has always brought an annual economic boost to the local economy.
South Ayrshire Council have accused the organisers, The Airshow (Scotland) Ltd, of breaching the funding agreement, something with the organisers deny saying "We dispute there was a breach of the contract and have disputed this for months. Our attempts to discuss the matter with the Council Leadership were met with refusals to meet or even talk on the phone. SAC promised £250,000 of funding towards TSIA 2020 which would have had a total cost of approximately £500,000 to run.
"A SAC officer alleged that TSIA had committed a number of breaches of contract and we have written in detail to the Council and Councillors with our complete rebuttal and provided evidence to back up our position."
The dispute seems to arise from a payment of £80,000, South Ayrshire Council said: "We made an advanced payment of £80,000 in error to the organisers, and on 2 December 2019, and again on 9 December 2019, we asked the organisers how this money had been spent."
The organisers say that the payment was used for "initial payments and guarantee of contract commitments." and that they have supplied South Ayrshire Council with all the relevant documents as well as detailed financial accounts.