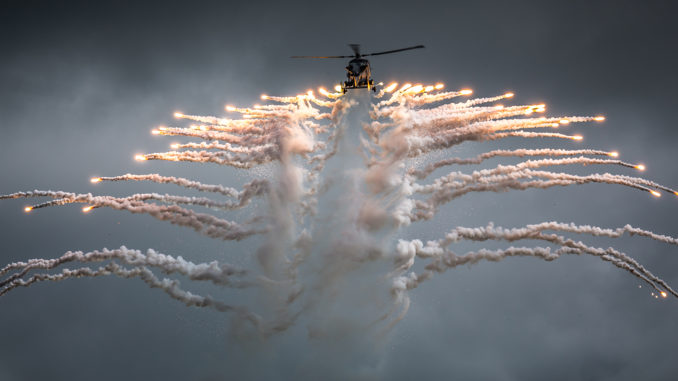 Commando Helicopter Force and Wildcat Maritime Force role demos
Yeovilton Air Day in July has already announced a spectacular line-up of display for 2018 but they keep coming and the latest comes from aircraft actually based at RNAS Yeovilton.
Both the Commando Helicopter Force (CHF) and the Royal Navy Wildcats will be putting on role demos on the day which promises to be a pyrotechnic heavy treat for helicopter fans.
The Commando Helicopter Force comprises three squadrons – 845 Naval Air Squadron (NAS) and 846 NAS, who are currently flying Merlin HC3/3As but transitioning to upgraded HC4s, and 847 NAS, equipped with the Wildcat AH1. These two helicopter types are at the forefront of amphibious and land-based Royal Marines operations worldwide and they'll both be in action with troops on board at Air Day.
Joining the CHF will be BAe Hawk T1s jets from 736 NAS, based at RNAS Culdrose.
The Wildcat Maritime Force (WMF) will be a solo Wildcat HMA2 display packed full of spectacular flares. The Fleet Air Arm's new multi-mission maritime helicopter, operated by the WMF's two squadrons – 815 and 825 NAS, will be put through its paces in this exciting role demonstration.
A pair of Wildcats will also take part in a flypast with the Royal Navy's Sea King ASaC7 as it bows out of service and three Wildcats will be available to view up close on static display.
The Wildcat Maritime Force display will be unique to Yeovilton Air Day.
Tickets for Yeovilton Air Day 2018, which takes place on the 7th July 2018, are available from https://www.royalnavy.mod.uk/yeovilton-airday