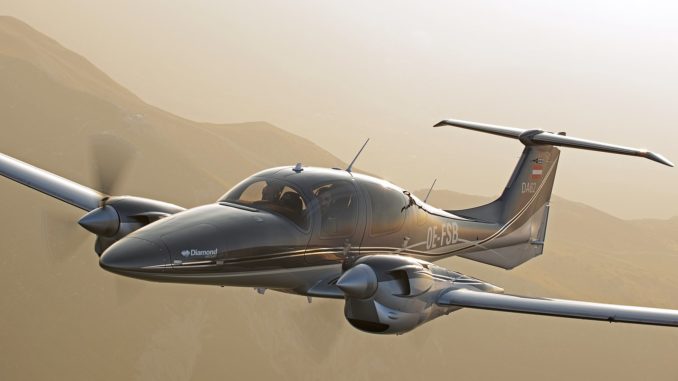 The United Arab Emirates' (UAE) General Civil Aviation Authority has said that the Diamond DA62 which crashed in Dubai last month was following too close to a landing Airbus A350 meaning Wake Turbulence was almost certainly a significant factor in the accident.
The aircraft, which was carrying out checks of the airport's navigation aids, was flying just 3.7 nautical miles (nm) behind a Thai Airways Airbus A350-900 during its final approach.
According to officials, the aircraft levelled off at around 1,100ft at which point it started to roll but this was recovered. Approximately 7 seconds later the DA62 rolled "abruptly" to the left and entered a nosedive.
It crashed into the ground at high speed just over 3 miles from the runway and in a 24-degree nose down attitude. Its right wing was down around 30-degrees.
All four occupants were killed, 3 were British.
The distance the aircraft was following the Airbus A350 was closer than the recommended distance to avoid encountering the wake of a preceding aircraft of this type and investigators noted that the pilot had "consistently followed" preceding traffic on previous approaches "below the specified minimum separation".
Officials also noted that the flight was operating on a separate ATC frequency from other traffic landing at the airport and the inquiry stated "Radar monitor recording indicated that there was an air traffic control inconsistency in advising the DA62 of the expected occurrence of hazards caused by wake turbulence"
The pilots of the DA62 had agreed to maintain their own safe distances removing the responsibility from ATC.
These are only preliminary findings by the official inquiry but it has prompted them to issue a safety recommendation to operators of these kind of calibration and checking flights enhance the awareness of separation procedures.
The aircraft was owned and operated by Shoreham, West Sussex based Flight Calibration Services Limited who had been contracted by Honeywell.
The findings of the inquiry back up claims by French investigators last month who said that video footage of the aircraft showed it had encountered wake turbulence.
A statement by Bureau of Enquiry and Analysis for Civil Aviation Safety posted on the 27th May 2019 said: "Video footage showed the aircraft encountered possible wake turbulence at about 1,100ft, following an Airbus A350, which landed on the parallel runway 30R."
The formal report and cause has not yet been concluded.