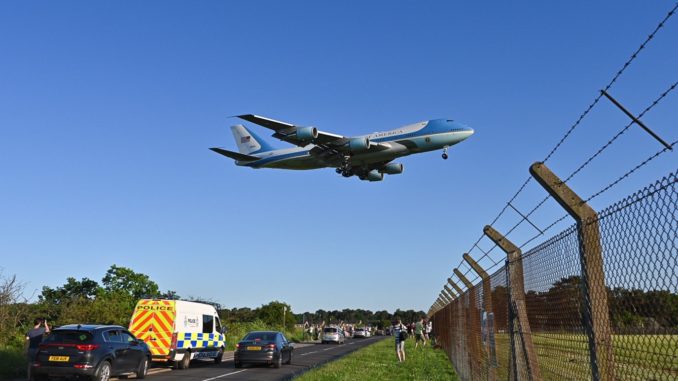 President Joe Biden has landed in the UK on board Air Force One. He departed Joint Base Andrews earlier today as he left for his first foreign trip.
The Boeing VC-25 carrying the president landed slightly before the scheduled time of 8pm as Biden arrives in the UK ahead of this week's G7 summit in Cornwall.
He landed at RAF Mildenhall in Suffolk which is home to the US Air Force's 100th Air Refuelling Wing.
Biden will meet and greet USAF personnel and their families at the airbase which is home to "the sole [US] tanker wing in the European theatre."
The aircraft, whose call sign is Air Force One when the president is aboard, could be seen departing Joint Base Andrews in Maryland this afternoon.
However, an aeroplane for journalists accompanying the president to the UK was delayed by several hours due to a mechanical issue caused by cicadas.
The insects filled the aircraft's engines resulting in a delay of more than six hours. A replacement flight eventually took off from Dulles with the journalists on board.
USAF V-22 Osprey helicopters have also been spotted in Cornwall in recent days as they have been preparing for their Commander-in-Chief's arrival.