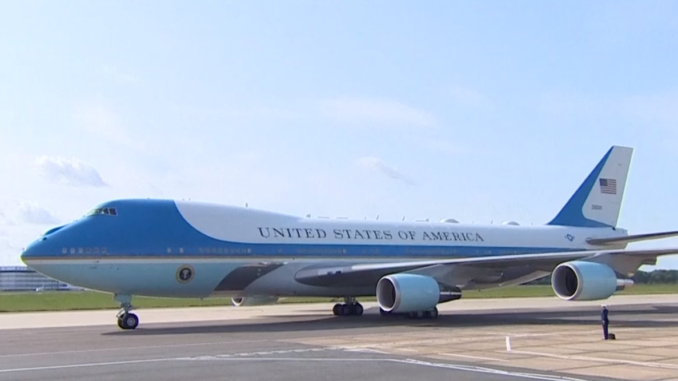 Air Force has arrived at London Stansted Airport (STN/EGSS) ahead of a three=day state visit by Donald Trump.
Air Force One is the official callsign of the United States Presidential aircraft, usually one of two Boeing VC25A aircraft.
The aircraft landed just before 9am this morning after flying from the US.
In addition to the Air Force One, the presidential also brings a raft of transport aircraft which arrived at RAF Mildenhall over the last week.
The transport aircraft brought support staff, vehicles for the motorcade (including the infamous 'Beast') and of course, the two Marine Corp Sikorsky VH-3D Sea King known as 'Marine One' – the second is a decoy helicopter.
Accompanying the flights in Marine One will be a brace of CV22 Osprey Aircraft from RAF Mildenhall.
The USAF Boeing VC25A known as a 'Flying Oval Office' includes:
Conference/dining room
Quarters for the president and the first lady
An office area for senior staff members
Another office that converts into a medical facility when necessary
Work and rest areas for the presidential staff, media representatives and Air Force crews
Two galleys that can provide 100 meals at one sitting
Multi-frequency radios for air-to-air, air-to-ground and satellite communications
Principal differences between Air Force One and the standard Boeing 747 include state-of-the-art navigation, electronic and communications equipment; its interior configuration and furnishings; self-contained baggage loader; and front and aft air-stairs.
The current aircraft are based on a Boeing 747-200 but they are due to be replaced by two larger, Boeing 747-8i based aircraft in 5 years time. Boeing is converting two aircraft which were originally destined for Russian airline Transaero.