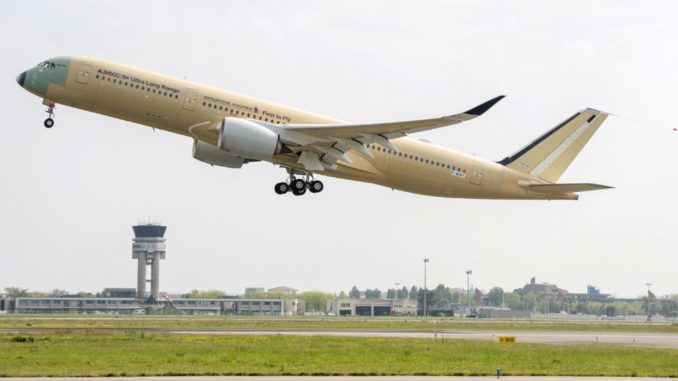 Singapore Airlines is the launch customer
The ultra-long-range variant of the Airbus A350 XWB has completed its first flight from Toulouse as it embarks on its certification process.
The Ultra-long-range (ULR) A350 XWB will fly further than any other commercial airliner currently available and will help launch customer Singapore Airlines take the crown for the worlds longest route when it flies from Singapore to New York.
The aircraft is powered by Rolls-Royce Trent XWB engines which are built in Derby and those, combined with cutting edges wings from Airbus in North Wales, give the aircraft a range of 9,700 nautical miles.
The short certification programme will assess the changes over the standard A350-900 which the ULR version is based on. Those changes include a modified fuel system that increases fuel carrying capacity by 24,000 litres and extended winglets.
Singapore Airlines has ordered seven of the type which it plans to use on non-stop routes to the US. The aircraft is capable of flying for 20 hours non-stop.
In addition to the Ultra-long-range models, Singapore Airlines has also ordered sixty A350-900 aircraft.
The current longest scheduled flight is operated by Qantas who currently use a Boeing 787 Dreamliner to fly direct between Perth and London Heathrow, a flight time of around 17 hours and a distance of around 8,000 nautical miles.