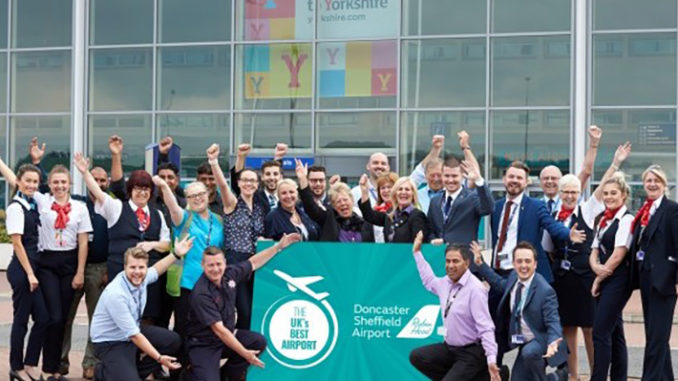 A survey of over 11,000 passengers has seen some major changes in the 2018 UK Airport Ranking by consumer watchdog, Which?.
The 2018 survey saw Cardiff Airport drop significantly to below Bristol Airport and Manchester's Terminal 3 and London Luton score the lowest results for passenger satisfaction.
Doncaster Sheffield Airport came out on top again with an overall score of 87% satisfaction in the survey which reflects the trend of passengers preferring to get better experiences at smaller airports. This is shown by up and coming London Southend Airport coming in second. London Southend has just had a major investment by low-cost airlines Easyjet & Ryanair.
Ian Smith, Director of Commercial and Passenger Experience at Doncaster Sheffield Airport said: "To win this award consistently, gives us great confidence in our plans for future growth and expansion.  As over half of the flights operated from DSA are now low cost, we can look forward to more customers than ever enjoying our first-class service and choice at a very reasonable price."
Cardiff Airport scored 64% customer satisfaction which saw it drop of 5 places from last years survey. This will no doubt come as a disappointment to the government owned airport given the recent terminal upgrades designed to enhance customer experience. The drop sees it fall below regional competitor Bristol Airport which just edged ahead with 66% but its terminal design is still disliked by many due to passengers often facing long-walks to and from gates.

The big London airports, Heathrow & Gatwick scored low in the survey with Heathrow's terminal 5 being the best of the bunch in 13th place with a score of 63%, the worst being Heathrow's terminal 3 scoring just 55% in joint 22nd place with Gatwick's south terminal.
In Scotland,  Glasgow Airport beat rival Edinburgh Airport, despite the latter being the more popular airport in passenger numbers.
The UK's 3rd largest airport, Manchester  came at the bottom of the table with terminal 2 in 25th place (51%), terminal 1 in 28th place (46%) and terminal 3 in joint 29th (44%) putting the airport just ahead of London Luton in 31st place wuth a woeful 35% passenger satisfaction.
The survey shows that passengers get a better experience when they start their holidays and trips at smaller airports with minimal queues but often these airports have a lack of choice of destinations and a lack of facilities which can detract from the experience so while a few airports have stuck the balance, many haven't and as airports grow, it seems they find it harder to keep passengers satisfied.
But as a general rule of thumb, if you can fly from a smaller airport then you will get a better experience.
Full list of UK Airports
Doncaster Sheffield (87%)
London Southend (84%)
Newcastle (74%)
Southampton (73%)
Exeter (72%)
Bournemouth (71%)
Liverpool (70%) Joint 7th
London City (70%) Joint 7th
Inverness (68%) Joint 9th
Norwich (68%) Joint 9th
Bristol (66%)
Cardiff (64%)
Glasgow International (63%) Joint 13th
London Heathrow Terminal 5 (63%) Joint 13th
Belfast City (62%)
Birmingham (61%)
East Midlands (60%) Joint 17th
London Heathrow Terminal 2 (60%) Joint 17th
Edinburgh (59%)
London Gatwick North Terminal (57%)
London Heathrow Terminal 4 (56%)
London Gatwick South Terminal (55%) Joint 22nd
London Heathrow Terminal 3 (55%) Joint 22nd
Leeds Bradford (54%)
Manchester Terminal 2 (51%)
Belfast International (50%)
Aberdeen (49%)
Manchester Terminal 1 (46%)
London Stansted (44%) Joint 29th
Manchester Terminal 3 (44%) Joint 29th
London Luton (35%)