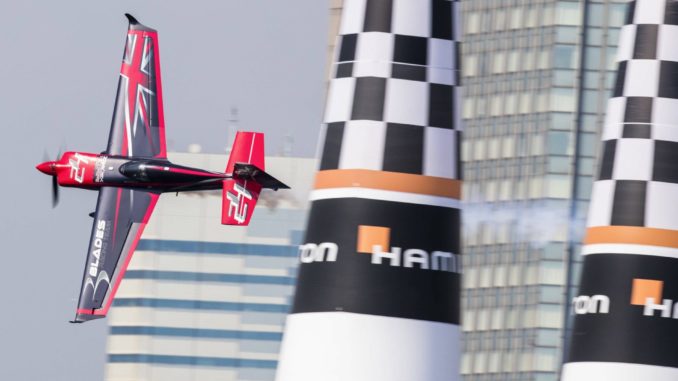 Result leaves Ben Murphy 11th Overall in 2018
Britain's Ben Murphy has ended the weekend in 11th place in the Red Bull Air Race in Chiba, Japan.
After a qualifying 14th due to technical issues, the Blades Racing Team member lost out to Micheal Goulian in the round of 14 with the American putting in a time of 0:56.422 compared to Ben's time of 0:57.560.
The race is the first one of the 2018 championship where Ben has failed to score a point.
Speaking after the race Ben said: "We had technical issues in Qualifying and then we were facing Goulian today, the same as Cannes. The gameplan was to fly a clean run and try to get around the track without penalties. We learned a lot this week, and that's what this first year is all about, so we're pretty happy. Budapest? I have never raced there before, so for us it's a brand new racetrack. We were pretty happy with our new winglets here and will be looking at making a few more minor adjustments."
We are sure Ben will return to points-scoring ways in Budapest on the 23rd & 24th June.
Red Bull Air Race Chiba Results
| | | | | | |
| --- | --- | --- | --- | --- | --- |
| Rank | Pilot Name | Country | Time | Penalties | Points |
| 1 | Matt Hall – Winner | AUS | 0:56.376 | 0:00.000 | 15 |
| 2 | Michael Goulian | USA | 0:56.695 | 0:00.000 | 12 |
| 3 | Martin Sonka | CZE | 0:58.443 | 0:02.000 | 9 |
| 4 | Pete McLeod | CAN | 0:58.639 | 0:02.000 | 7 |
| 5 | Mika Brageot | FRA | 0:56.694 | 0:00.000 | 6 |
| 6 | Francois Le Vot | FRA | 0:57.226 | 0:00.000 | 5 |
| 7 | Juan Velarde | ESP | 0:57.578 | 0:00.000 | 4 |
| 8 | Matthias Dolderer | GER | 0:59.845 | 0:04.000 | 3 |
| 9 | Petr Kopfstein | CZE | 0:56.864 | 0:00.000 | 2 |
| 10 | Cristian Bolton | CHI | 0:57.003 | 0:00.000 | 1 |
| 11 | Ben Murphy | GBR | 0:57.560 | 0:00.000 | 0 |
| 12 | Nicolas Ivanoff | FRA | 0:57.671 | 0:00.000 | 0 |
| 13 | Kirby Chambliss | USA | 0:58.567 | 0:02.000 | 0 |
| 14 | Yoshihide Muroya | JPN | DNF | 0 | 0 |