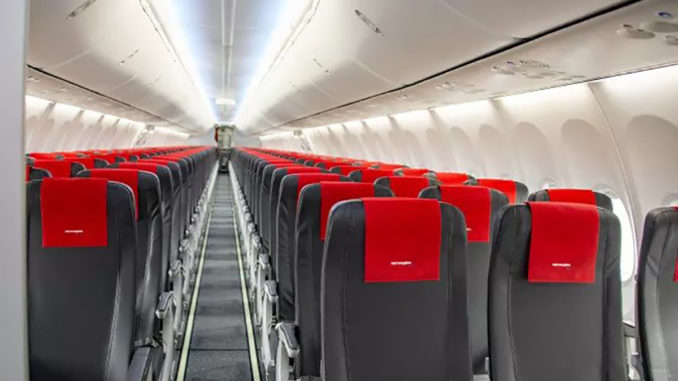 Norwegian has taken delivery of its first Boeing 737 Max with an upgraded, slimmer seat that promises more space for passengers.
The 737 Max will be used on transatlantic routes from Edinburgh airport and the seats have been specifically designed for more comfort on longer routes. Norwegian says it will give taller passengers more "personal space".
The low-cost carrier (LCC) has 100 737 Max aircraft on order with 12 of those coming in 2018. The aircraft will service Norwegian's transatlantic routes to New York and Providence near Boston, from the UK and Ireland. The 737 MAX will also replace older Boeing 737-800s on short-haul routes.
The new Recaro 3710C seats have a 30" seat pitch and measure 17.2" wide (by comparison Ryanair seats have a 30″ seat pitch and are 17″ wide) but are also specifically designed to give increased space at knee level.
The 189 seats combined also decrease the overall weight of the aircraft by around 200kg.,
Thomas Ramdahl, Chief Commercial Officer at Norwegian said:"More than 370,000 customers have flown Norwegian between the UK & Ireland and the US East Coast and now thousands more passengers can fly in slimmer seats that provide more space for the longer flights.
"The Boeing 737 MAX's versatility can provide passengers with lower fares on direct transatlantic routes and shorter flights as we plan to replace older aircraft as we maintain a young, modern and fuel-efficient fleet."
Dr Mark Hiller, CEO and Shareholder of RECARO Aircraft Seating said: "We are delighted and proud, that Norwegian is the first customer for our new BL3710 seat. The seat embodies RECARO's high-quality standards and design principles while setting all new standards in economy class. With an ideal balance between lightweight design and comfort, RECARO supports the airline to offer their passengers enhanced living space and outstanding comfort."