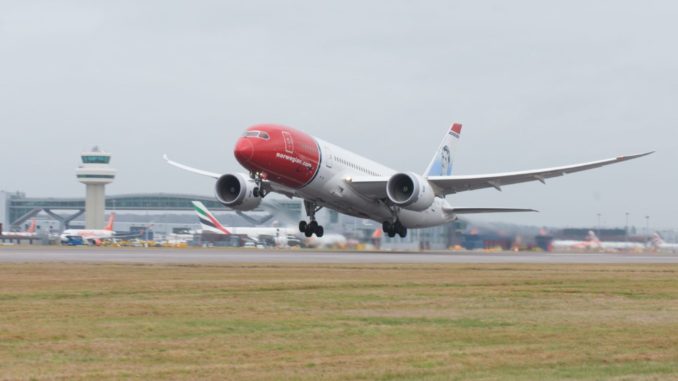 Low-cost long-haul flights from Gatwick to Chicago & Austin
Low-fares airline Norwegian has this week launched two new routes to the US from London Gatwick Airport (LGW/EGKK).
On Sunday (25th March) daily flights began from Gatwick to Chicago, Illinois followed two days later by the start of its 3-times-weekly service to Austin, Texas.
The flights are operated by Norwegian Air UK, the UK subsidiary of Norwegian.com who use the airlines brand new Boeing 787 Dreamliner's.
The flights continue Norwegian's campaign to take on legacy carriers such as British Airways and Virgin from London airports and with fares starting from £169 (one-way) it is proving popular with travellers.
Norwegian Chief Commercial Officer, Thomas Ramdahl said:"We are excited to offer passengers the only direct route from London Gatwick to Austin, the Live Music Capital of the World. Our high-quality flights give both leisure and business travellers the chance to explore this vibrant city."
"As we expand our high-quality services to the USA from London Gatwick, we will continue offering consumers greater choice and affordable fares when flying Norwegian"
Gatwick Airport, Chief Commercial Officer, Guy Stephenson said: "This service – Norwegian's second new long-haul route to launch from Gatwick in the space of a week – connects our passengers to a particularly exciting new destination and famous cultural hub. Austin has so much to offer British tourists, including the incredible live music scene with which it has become synonymous. We're delighted that our passengers can now take advantage of a direct route to this remarkable city – which is one of more than 60 in Gatwick's flourishing long-haul network."
Tom Noonan, President and CEO of Visit Austin added "The new service from Gatwick Airport will provide an opportunity for additional visitors connecting from throughout the world and from the U.K.
"With year over year increases in visitors from the U.K. and beyond, we anticipate this flight will be very successful. The addition of this route is also a direct reflection of how our city continues to evolve as a premier destination for travellers."