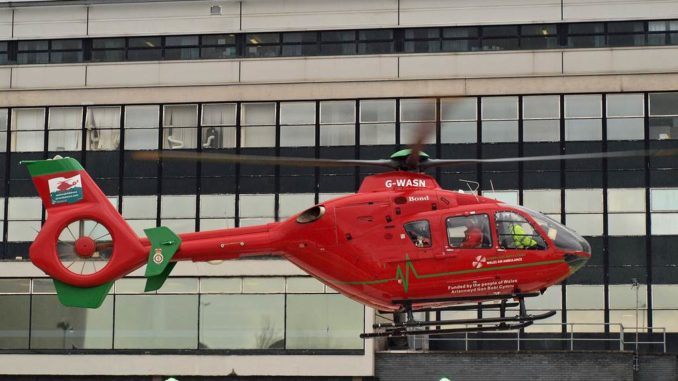 As Wales Air Ambulance Charity (WAAC) celebrates 15 years of flying across Wales it has announced that it will be operating 3 new helicopters from January 2017.
The charity currently uses 3 Eurocopter EC135 models supplied by Bond Aviation Group. These will be replaced by Airbus H145 aircraft also supplied by Bond after they won the tender.
The Airbus H145 is equipped for night flying which will move the charity closer to its goal of achieving 24 hour coverage. A move that follows on from CAA approval to land at most Welsh hospitals during the night.
The H145 comes equipped with Airbus' Helionix® flight system offering "undisputed superiority for in-flight envelope protection, pilot assistance and situational awareness" which will help improve the safety of operations during day and night.
Angela Hughes, chief executive of the Wales Air Ambulance Charity, said: "Our new lease of helicopters will help us continue to provide one of the most modern HEMS services in Europe.
"It is hugely exciting that the Wales Air Ambulance Charity has had such interest from around the world. It demonstrates that what we are doing is truly pioneering, and we continue to lead the way in developing an advanced air ambulance service.
"Crucially, though, it is what the people of Wales are doing which is making all the difference. It is thanks to their support that we have been able to secure such advanced aircraft for Wales, and we need their help to keep the new helicopters in the air."
Bond will not only be providing the Aircraft, they will also be providing Pilots and Engineers along with maintenance.
Tim Shattock, Bond managing director, said: "This new contract will allow the Wales Air Ambulance Charity to bring a truly landmark air ambulance service for everyone in Wales. As part of Babcock, and through working closely with the charity we have been able to offer a really innovative service, bringing new aircraft, new technologies and new ways of working to this critical and lifesaving service.
"I am pleased we will continue to provide the Wales Air Ambulance Charity with the vital operations that are so important for the people of Wales."
The aircraft will be based in Welshpool, Caernarfon and at the charities new headquarters in Llanelli.