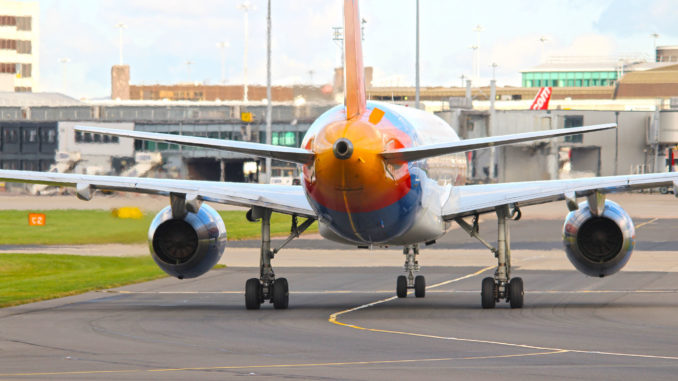 Manchester Airport is set to become the UK's first airport to have a direct supply of sustainable aviation fuel (SAF) thanks to a new partnership with Fulcrum BioEnergy.
Manchester Airports Group (MAG), which owns Manchester Airport along with London Stansted and East Midlands, signed the Memorandum of Understanding (MOU) with Fulcrum who will develop and produce the SAF at a new waste to fuels biorefinery, in Stanlow, Cheshire.
The fuel will be delivered via a direct pipeline from the Stanlow site to the UK's third-largest airport.
The partnership, backed by UK Business Secretary Kwasi Kwarteng, will also work to support a sustainable recovery from the pandemic, promoting green skills and jobs across the region.
Research by E4Tech in a Sustainable Aviation publication from 2020, showed that a North West SAF cluster could generate up to 1,520 jobs and £219m GVA annually in the North West and a total of 6,500 jobs and £929m GVA annually across the UK.
Business Secretary Kwasi Kwarteng said: "This partnership is a huge leap forward for the long-term competitiveness of Britain's aerospace sector, demonstrating how, by going green, industry can create jobs and help level up across the UK."
"Cleaner aerospace and aviation is at the centre of our plans to end the UK's contribution to climate change by 2050. That is why we are backing sustainable aviation fuel with £180 million of support and working with industry to turbocharge low carbon aerospace innovation with £3.9 billion."
Fulcrum NorthPoint will produce approximately 100 million litres of SAF per year which can be blended 50/50 with traditional jet fuel and used without any modification to the aircraft engines.
This would give the aircraft using it a 70% less CO2 footprint using SAF produced from residual household and commercial wastes, which would otherwise be destined for landfill or incineration.
Jeff Ovens, Fulcrum Bioenergy Limited UK Managing Director said: "Support for SAF in the UK has reached new heights and the development of the Fulcrum NorthPoint SAF facility in Cheshire will bring significant volumes of much needed low carbon fuel for airlines, either those based here in the UK, or flying in from overseas." 
"Our partnership with MAG as an airport operator will bridge airlines and fuel suppliers and make SAF accessible and more widespread within the sector. This collaboration will also support our ambition to cementing the North West as a centre for excellence for SAF in the UK, driving forward the Prime Minister's 10 point plan for an industrial revolution."
"The aviation industry is working hard towards the Net Zero 2050 target, and through our joint work on the Jet Zero Council alongside the Government, SAF will play an integral role in achieving it."