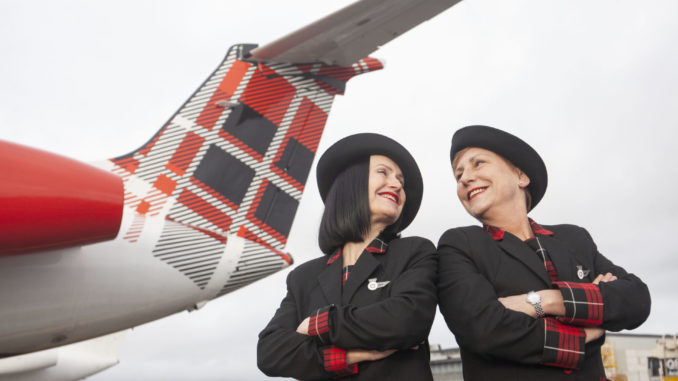 Two of Loganair's cabin crew members Michelle White, 52, and Laura Moore, 51 welcomed passengers on board the airlines Glasgow to Stornoway flight last Friday afternoon.
That in itself is nothing to write a story about but as it turns out, Michelle and Laura are old friends and former colleagues who last flew together 25 years ago.
They first met when they both joined Air UK on the same day 29 years ago and after working together for a number of years they lost touch as they went there separate ways as they both focused on raising their families.
But fast-forward to 2019 and they both independently decided to return to their former careers and after being taken on by Loganair, found themselves once again on the same training course as each other.
Mum of 3 Michelle said: "When I worked in cabin crew 30 years ago, it was a job for younger women.  There was nobody over 29 entering the profession, let alone over 50.  So I never imagined it would be possible to start flying again at my age."
"In fact, Loganair has plenty of mature cabin crew and they seem to value the experience we bring."
"I couldn't believe it when I found out Laura was on the same training course.  We hadn't flown together in 25 years but our lives had taken very similar paths – leaving the airline industry behind to concentrate on our children, finding ourselves as single parents, caring for relatives, then getting a second chance at the job we loved."
No stranger to diversity, Loganair, which employs 900 staff across 11 operating bases, already has the highest ratio of female pilots and pilots of minority ethnic groups of any UK airline.
Loganair chief executive Jonathan Hinkles said: "I was delighted to welcome Michelle and Laura back to the skies after such a long break and the fact that it reunited them as friends was the icing on the cake.  Our friendly cabin crew are an essential part of flying Loganair and we pride ourselves on being an airline that looks on its staff as family."