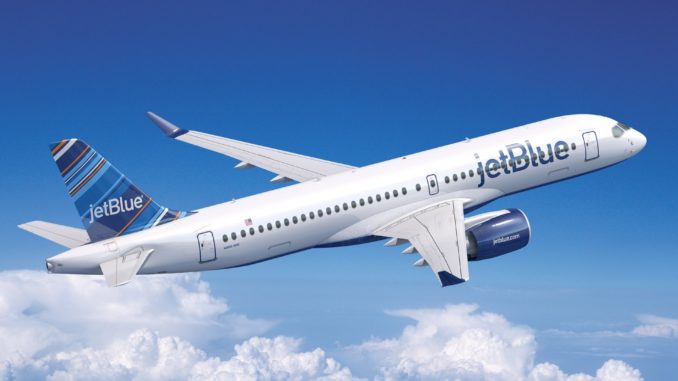 US low-cost carrier JetBlue is the first airline to order the newly renamed Airbus A220 airliner.
JetBlue has signed a commitment for 60 of the jets, formerly known as the Bombardier C-Series. The C-Series was officially brought into the Airbus family on Tuesday when it was renamed as the A220.
The order is for the larger of the two A220 models, the A220-300 which seats up to 160 passengers and has a range of 3,200nm.
JetBlue already operates an all-Airbus fleet and the A220 will complement its large A320 fleet.
The airline also converted 25 of its orders for the A320neo into orders for A321neo powered by Pratt & Whitney engines.
"JetBlue's selection of the A220 aircraft as a complement to its growing A320 Family fleet is a tremendous endorsement – both of the A220 itself and of the way these two aircraft can work together to provide airline network flexibility and a great passenger experience," remarked Eric Schulz, Chief Commercial Officer for Airbus.  "JetBlue will be able to leverage the unbeatable efficiency of both the A321neo and the A220-300, as well as taking advantage of the roomiest and most passenger-pleasing cabins of any aircraft in their size categories."
Robin Hayes, the airline's chief executive officer said: "We are evolving our fleet for the future of JetBlue, and the A220-300's impressive range and economics offer us flexibility and support our key financial and operating priorities," adding  "As JetBlue approaches our 20th anniversary, the A220, combined with our A321 and restyled A320 fleet, will help ensure we deliver the best onboard experience to customers and meet our long-term financial targets as we continue disciplined growth into the future."
Airbus manufactures, markets and supports A220 aircraft under C Series Aircraft Limited Partnership (CSALP) agreement.