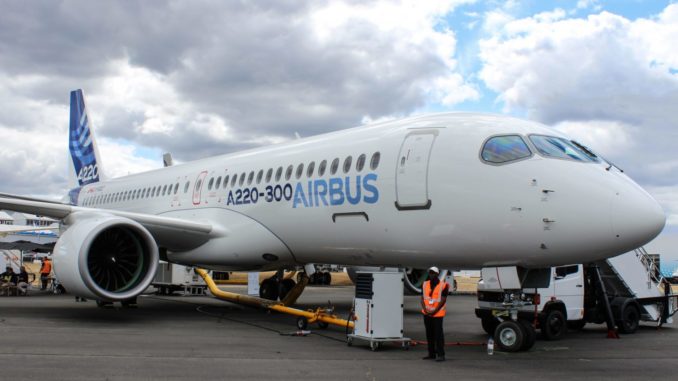 Airbus has renamed the C-Series 100 and 300 to the A220-100 and A220-300 respectively following it taking control of Bombardier.
In a ceremony in Toulouse today, Airbus officially welcomed the two newest members of its family of A series Commercial aircraft and the first not carry the traditional 3 designations.
Airbus formally took control of the C-Series last month after its controlling stake came in to effect for C-Series Production Limited which is now shared as Airbus 50.01%, Bombardier 34% and Investissement Québec 16%.
Assembly of the C-Series is still expected to remain in Quebec with parts, including the Wings, being made in Northern Ireland. Airbus had said it could add a production line for the C-Series to its Mobile, Alabama facility in order to supply jets to US customers that are made in the US.
The Airbus A210 and A220 are twin-engine medium-range airliners which seat up to 133 and 160 respectively. The airliner has attracted orders for 402 aircraft (126 x CS100 now A220-100 and 276 CS300 now A220-300) with 36 having been delivered.
"Everyone at Airbus has been looking forward to this historic moment. Today, we are thrilled to welcome the A220 to the Airbus family and are honoured to see it wearing its new Airbus colours for the first time," said Guillaume Faury, Airbus President Commercial Aircraft. "I pay tribute to all the women and men at Bombardier and the supply chain who have strived over the past years to bring this fantastic aircraft to the world. The A220 now enters a new phase in its career with all Airbus' resources behind it to further its commercial success worldwide." 
Eric Schulz, Airbus Chief Commercial Officer, added: "We are enthusiastic about selling the A220 thanks in particular to its technology which gives it a decisive edge in a very competitive market. I have received a lot of positive feedback from customers regarding the aircraft's outstanding passenger experience, its lower fuel burn, lower weight and quieter engines. All these reasons contribute to my optimism that Airbus will support to make the A220 a great commercial success."
Watch as Airbus welcomes the A220 into the family