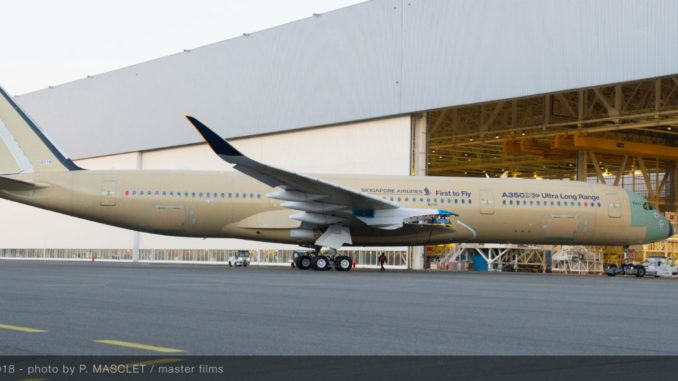 The first Ultra Long Range (ULR) Airbus A350 XWB has made its debut from final assembly in Toulouse prior to having the engines fitted.
The aircraft, which is destined for Singapore Airlines, was rolled out of the final assembly hangar following completion of the airframe assembly and has now moved to an outdoor station where it will undergo extensive ground tests.
The aircraft will be powered by Rolls-Royce Trent XWB Engines developed in Derby.
The A350 ULR is based on the A350-900 which means the test program is shorter and focuses on the changes between the -900 and ULR variant. The changes include a modified fuel system that increases fuel carrying capacity by 24,000 litres, without the need for additional fuel tanks.
Airbus says that the test phase will also measure enhanced performance derived from aerodynamic improvements, including extended winglets. The wings for the A350 family are produced in Broughton, North Wales.
The A350 XWB ULR has a maximum take-off weight (MTOW) of 280 tonnes and is capable of flying up to 9,700 nautical miles or over 20 hours non-stop.
It is latest member of the A350 XWB family and comes shortly after Airbus delivered the first A350-1000 to Qatar Airways.