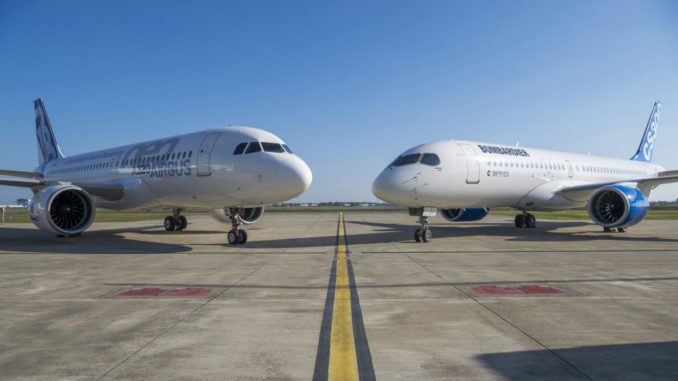 The deal which sees Airbus take a majority stake in the company set up to produce Bombardier C-Series jets came into effect yesterday.
The Company, C Series Aircraft Limited Partnership is now owned by Airbus 50.01%, Bombardier 34% and Investissement Québec 16%.
Airbus SAS, which is a wholly owned subsidiary of Airbus SE, planned to take on the C-Series after the US tried to impose penalties of up to 300% on the aircraft after US carrier Delta Airlines said it wanted to buy the C-Series, not Boeing aircraft. The US trade commission lost the case in the courts meaning they couldn't impose the tariffs.
Airbus decided to continue with the deal as their extensive supply chain could help reduce overall costs of the C-Series aircraft.
Assembly of the C-Series will remain in Quebec with parts, including the Wings, being made in Northern Ireland. Airbus had said it could add a second production line for the C-Series to its Mobile, Alabama facility meaning jets for US customers could be made in the US.
In a brief statement on the deal, Airbus said: "The closing of the previously announced C Series transaction between Airbus SAS, a wholly-owned subsidiary of Airbus SE (EPA: AIR), Bombardier Inc. (TSX: BBD.B) and Investissement Québec came into effect on July 1, 2018. "
The Bombardier C-Series is a twin-engine medium-range airliner. It has two variants, the CS100 and CS300 which seat up to 133 and 160 respectively. The airliner has attracted orders for 402 aircraft (126 x CS100 and 276 CS300) with 36 having been delivered.
Delta Airlines ordered 75 CS100's.