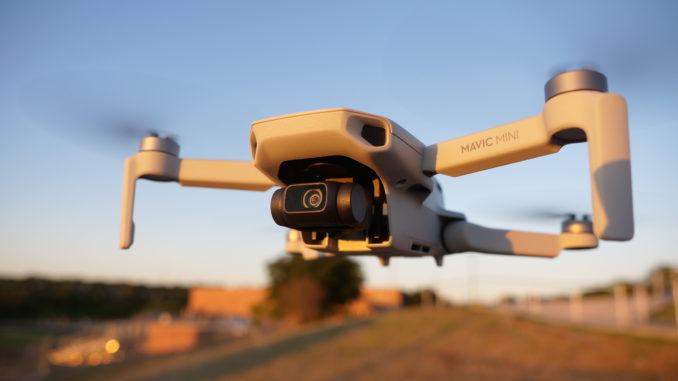 The DJI Mavic Mini
was introduced as an affordable, yet powerful drone and primarily aimed at those looking for a bit more than the standard holiday photos.
One of its big selling points is the weight, at 249grams it doesn't require you to register with the Civil Aviation Authority or obtain an operator ID so its a bit less restrictive.
The DJI Mavic Mini Combo
package, as tested, comes in at £459.99 from Amazon or DJI and in addition Drone, Controller and Battery of the standard package (£349.99) adds two more batteries, a multi-charger, prop guard and a host of other things such as a hard case and spare props.
With the batteries alone costing almost £100 each, the Flymore combo is definitely the one to buy!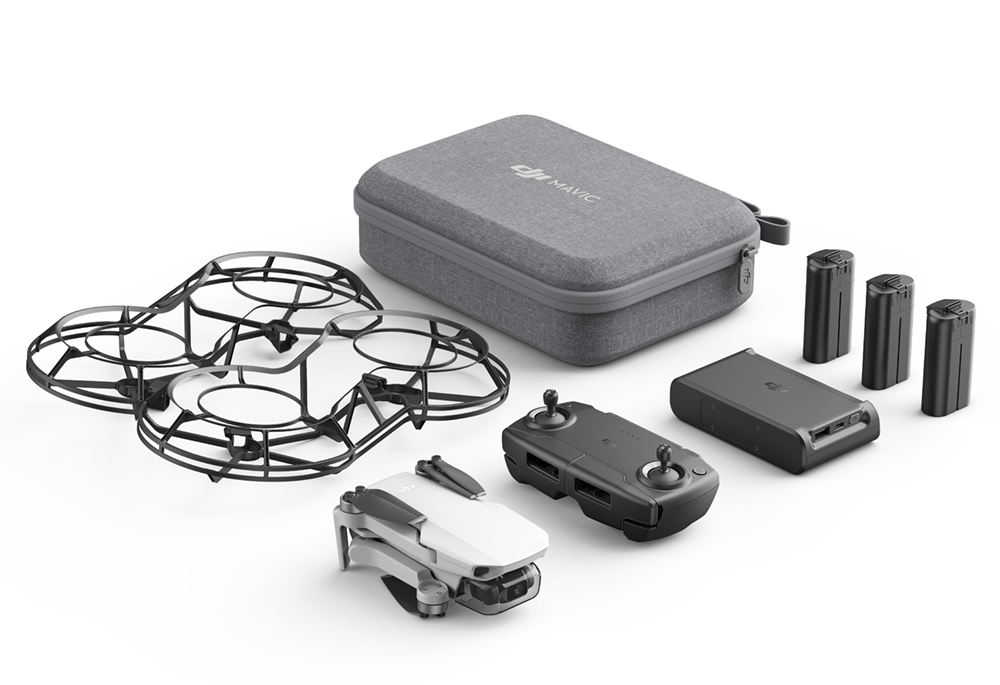 Flyabaility
For anyone who has bought a cheap drone and spent hours trying to get it just to fly you will appreciate just how easy flying the DJI Mavic Mini, or any DJI Mavic drone, is.
Flight is controlled by the DJI Fly App only your mobile phone which is attached to the controller.
Functions such as one-key take off and landing and the excellent "Return to Home" function make this a great starter drone.
You can manually fly the drone using the controller and releasing the sticks simple makes the aircraft stop and hold its position, great for those panic moments!
Equipped with downward obstacle sensing, the Mavic Mini also stops you from landing awkwardly of flying to low.
Each battery gives the Mavic Mini around 30 minutes of flight time but in reality we found this to be nearer 20mins in a light breeze, which sadly, is where this drone does slightly fall down.
DJI say you can fly the Mavic mini in winds up to 8 m/s (around 18mph) but realistically, anything above a stiff breeze is going to trigger the high winds warning.
Camera
As you would expect from the world-leaders in Gimbal technology the Mavic Mini comes equipped with a fantastic 3-axis gimbal to keep your footage smooth no matter how hard you fly it.
The camera itself is adequate. The shooter is a 1/2.3" CMOS sensor with an effective mega pixels of 12. It will shoot video at up to 2.7K (2720×1530p) at up to 30fps.
The quality of the image overall is good in well light conditions but this isn't one for nigh time shoots.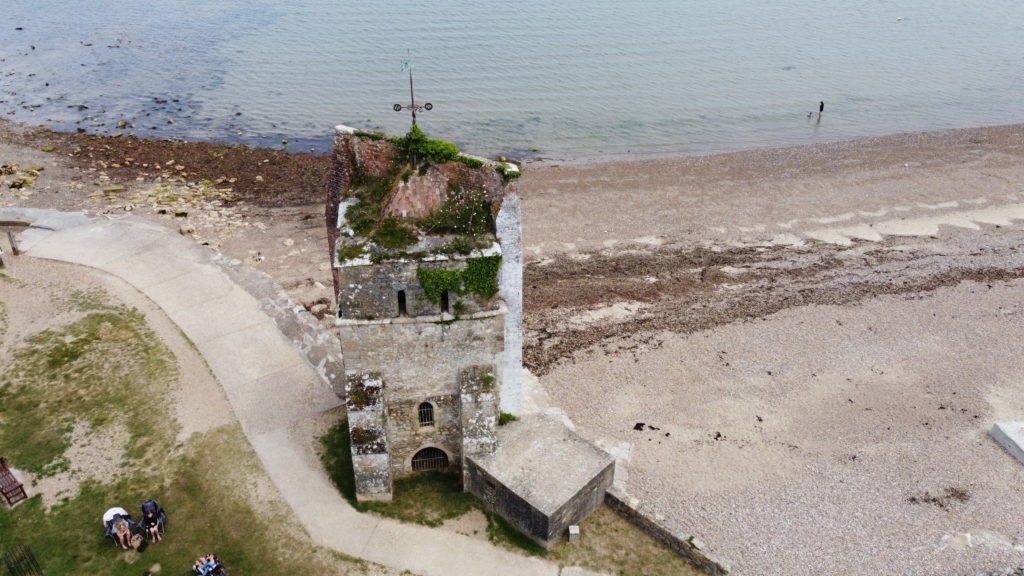 Several pre-determined routines such as Spiral, Helix, Dronie and Rocket; can make capturing good video easy for the beginner and a fun dimension to things like parties or holiday photos.
The camera will also capture decent quality still images which, although aren't crystal sharp, are more than adequate for the family collection.
Video Sample
Overall
The DJI Mavic Mini is a great entry point into serious drone flying. It is forgiving enough to the beginner but also offers some advanced features allowing you to expand your skill sets without upgrading too quickly.
Its ultra-portable too making it a great travel tool.
The creative of the camera photo and video presets allow you to create some great memories with ease but don't buy Mini thinking you will be able to create professional-grade video and photos.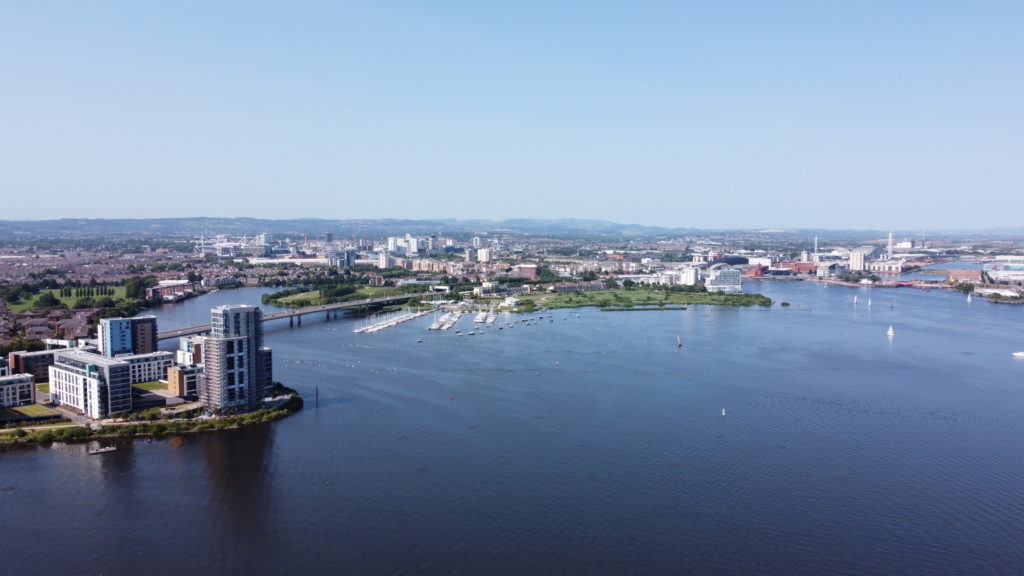 So if you are new to drones and want to get started with a capable drone then there are few better places to start than the DJI Mavic Mini, just understand its limitations.
Once you have mastered your Mini then a logical step would be to head over to its bigger brother, the Mavic Air 2, which incidentally, is our next review!
DJI Launch Video
Full Specification
Dimensions
Folded: 140×81×57 mm (L×W×H)
Unfolded: 159×202×55 mm (L×W×H)
Unfolded (with propellers): 245×289×55 mm (L×W×H)
Max Ascent Speed
4 m/s (S Mode)
2 m/s (P Mode)
1.5 m/s (C Mode)
Max Descent Speed
3 m/s (S Mode)
1.8 m/s (P Mode)
1 m/s (C Mode)
Max Speed (near sea level, no wind)
13 m/s (S Mode)
8 m/s (P Mode)
4 m/s (C Mode)
Maximum Takeoff Altitude
3000 m
Max Flight Time
30 minutes (measured while flying at 14 kph in windless conditions)
Max Wind Speed Resistance
8 m/s (Scale 4)
Max Tilt Angle
30° (S Mode)
20° (P Mode)
20° (C Mode)
Max Angular Velocity
150°/s (S Mode)
130°/s (P Mode)
30°/s (C Mode)
Operating Temperature Range
0° to 40°C (32° to 104°F)
Operating Frequency
Model MT1SS5: 5.725-5.850 GHz
Model MT1SD25: 2.400-2.4835 GHz, 5.725-5.850 GHz
Hovering Accuracy Range
Vertical: ±0.1 m (with Vision Positioning), ±0.5 m (with GPS Positioning)
Horizontal: ±0.3 m (with Vision Positioning), ±1.5 m (with GPS Positioning)
Gimbal
Mechanical Range
Tilt: -110° to 35°
Roll: -35° to 35°
Pan: -20° to 20°
Controllable Range
Tilt: -90° to 0° (default setting) -90° to +20° (extended)
Stabilization
3-axis (tilt, roll, pan)
Max Control Speed (tilt)
120°/s
Angular Vibration Range
±0.01°
Sensing System
Downward
Operating Range: 0.5-10 m
Operating Environment
Non-reflective, discernable surfaces
Diffuse reflectivity (>20%)
Adequate lighting (lux>15)
Camera
Sensor
1/2.3" CMOS
Effective Pixels: 12 MP
Lens
FOV: 83°
35 mm Format Equivalent: 24 mm
Aperture: f/2.8
Shooting Range: 1 m to ∞
ISO Range
Video:
100-3200 (Auto)
100-3200 (Manual)
Photo:
100-1600 (Auto)
100-3200 (Manual)
Shutter Speed
Electronic Shutter: 4-1/8000s
Still Image Size
4:3: 4000×3000
16:9: 4000×2250
Still Photography Modes
Single shot
Interval: 2/3/5/7/10/15/20/30/60 s
Video Resolution
2.7 K: 2720×1530 25/30 p
FHD: 1920×1080 25/30/50/60 p
Supported File System
FAT32(≤32 GB)
exFAT(>32 GB)
Video Format
MP4 (H.264/MPEG-4 AVC)
Remote Controller & Video Transmission
Operating Frequency
Model MR1SS5: 5.725-5.850 GHz
Model MR1SD25: 2.400-2.4835 GHz, 5.725-5.850 GHz
Max Transmission Distance (unobstructed, free of interference)
Model MR1SS5
5.8 GHz: 4000 m (FCC); 2500 m (SRRC)
Model MR1SD25
2.4 GHz: 2000 m (MIC/CE)
5.8 GHz: 500 m (CE)
Operating Temperature Range
0° to 40°C (32° to 104°F)
Transmission Power (EIRP)
Model MR1SS5
5.8 GHz: <30 dBm (FCC); <28 dBm (SRRC)
Model MR1SD25
2.4 GHz: <19 dBm (MIC/CE)
5.8 GHz: <14 dBm (CE)
Operating Current/Voltage
1200 mA 3.6 V (Android)
450 mA 3.6 V (iOS)
Supported Mobile Device Size
Max length: 160 mm
Max thickness: 6.5-8.5 mm
Supported USB Port Types
Lightning, Micro USB (Type-B), USB Type-C
Video Transmission System
Enhanced Wi-Fi
Live View Quality
720p/30fps
Latency (depending on environmental conditions and mobile device)
170-240 ms