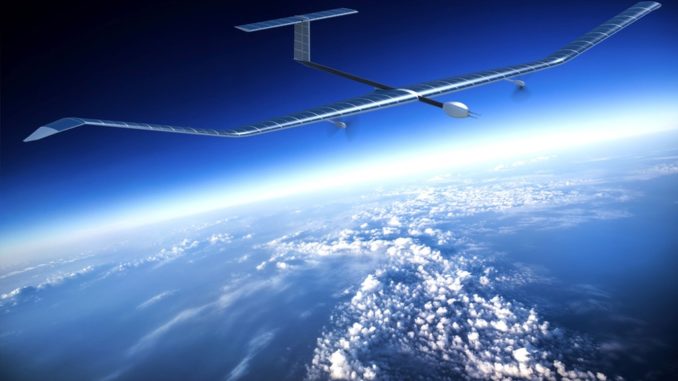 Yesterday July 25th 2018, Zephyr, the British military Drone built by Qinetic and Airbus Defense and Space at Farnborough has broken the world record for the longest continuous flight. The Zephyr took off on July 11th and is still up in the stratosphere at 56,700ft above Arizona in the USA.
Zephyr-8S is the latest version of a highly sophisticated series of ultra-lightweight solar-powered UAVs, capable of flying up to 70,000ft – twice the altitude of a commercial airliner – for up to 45 days at a time. Referred to as a High Altitude Pseudo-Satellite, it performs more like a satellite than a conventional UAV. The Zephyr S has a wingspan of 25m and weighs less than 75kg
Four of these aircraft have been ordered so far, and three have been built.
The precise purposes for which the UK MoD will use its Zephyrs have not been disclosed.
As well as for military purposes, Zephyrs can be used for humanitarian missions, precision farming, environmental and security monitoring, and to provide internet coverage to regions of poor or zero connectivity.
There are two different types of Zephyr in development, the current model S, and a future model T. Zephyr S with its ability to carry payloads, offering voice, data communications both line of sight and beyond the line of sight, and line of sight high-resolution optical imagery. The second model in development, Zephyr T will be capable of carrying larger payloads and offering the ability to bring more active payloads to the fore; for example, widespread, persistent internet coverage to remote areas of the globe, and active RADAR. Together they enable real-time mapping, internet and a number of surveillance opportunities to meet a broad range of requirements.