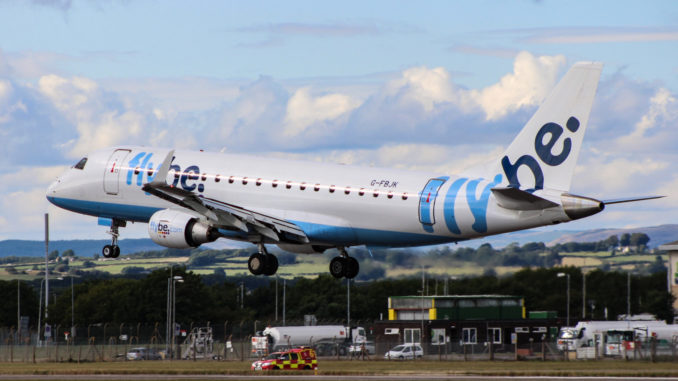 The Flybe Brands days at UK airports are limited
The Flybe brand will start to disappear form airports after the European Commission (EC) approved the takeover of its business by Connect Airways Ltd, a group led by Virgin Atlantic and Stobart Group.
Flybe turned from a profitable regional airline into an airline on the verge of collapse under the stewardship of outgoing CEO Christine Ourmieres-Widener and was sold to Connect Airways for a knock-down-price after its assets were transferred a separate deal, effectively making the company a worthless shell.
In a statement, Connect Airways Ltd said that "Work is underway to develop an exciting new brand and customer proposition, which will be announced in due course".
It is expected that Connect Airways will reorganise the airline to offer better connectivity to Virgin Atlantic flights, particularly at London Heathrow (LHR/EGLL) and Manchester (MAN/EGCC.
The company will be led by former Virgin Holidays CEO Mark Anderson and Virgin Atlantic CEO, Shai Weiss, said: "Mark and his team at Connect Airways have an amazing opportunity ahead of them."
Mr Weiss went on to say "At Virgin Atlantic, we recognise the value of great partnerships, and the network and connectivity benefits they offer customers.
"I'm excited to build on the successful partnership Virgin Atlantic has enjoyed with Flybe – and how we can enhance the experience for our mutual customers, once Connect Airways joins the Virgin family and operates under its new brand."
Flybe has recently earned the nickname of 'FlyMayBe' due to its frequent cancellation of flights, something that has not been helped by crew shortages as staff leave for other airlines at the bases that are being closed such as Cardiff Airport and Doncaster and the closure of its eJet bases at Exeter and Norwich.
Flybe – A Brief History

1979 – Launches as Jersey European

1983 – Sold to Walker Steel Group

2000 – Re-branded to British European

2002 – Re-branded to Flybe

2010 – Flybe Floated on Stock Exchange

2017 – Airline reports losses of 26.7 million (after tax)

2018 – Stobart Group confirmed interest in a takeover bid of 100% of Flybe which was rejected.

2019 – Sold to Connect Airways Ltd for £2.8 million
The European Commission ruled that the sale to connect airways would create monopolies on certain key routes. particularly between Birmingham and the European capitals of Amsterdam and Paris.
As a result, the airline must release some slot of its daily slot pairs from these cities, Five at Amsterdam Schiphol (AMS/EHAM) and three at Paris Charles De Gaulle (CDG/LFPG)