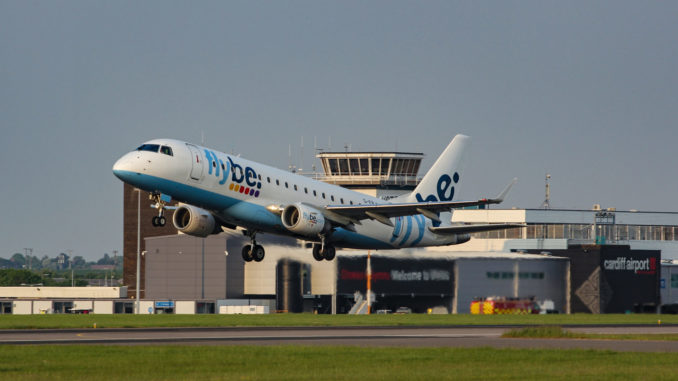 Flybe is to close its ejet bases at Cardiff (CWL/EGFF), Doncaster (DSA/EGCN) Airports and end ejet flights from Exeter (EXT/EGTE) and Norwich Airports (NWI/EGSH) at the end of Summer 2019.
In documents seen by us, the airline has told its pilots that the decision follows a "critical review of the business performance" which means the company will be "ceasing ejet operations" from four regional airports.
The closure is extremely bad news for all 4 airports which rely heavily on the Flybe operations which account for a large number of the daily flights at each airport, in particular Cardiff and Exeter where the move could be potentially devastating to the operations there.
The airline says that it is not the companies intention to make any pilot redundant but will require "directional moves" by pilots to relocate to other bases.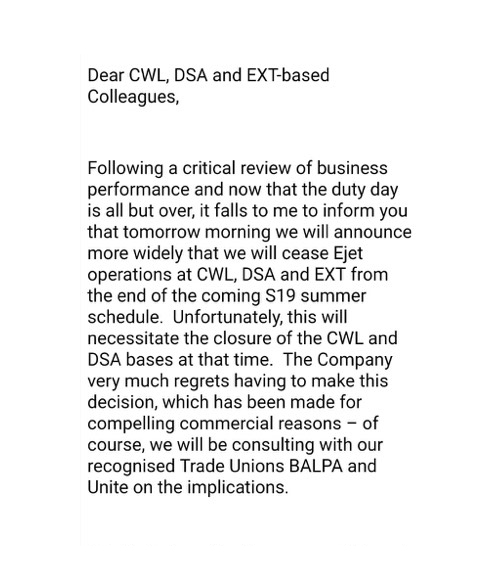 The airline goes on to say that it is likely that Cabin Crew at Cardiff and Doncaster will be made redundant.
Flybe has been making a loss for some time under the stewardship of CEO Christine Ourmières-Widener and was recently purchased by Connect Airways. A consortium led by Virgin Atlantic and Stobart Group.
The new airline is expected to focus on more on feeding Virgin Atlantic hubs and its clear that Connect Airways is already moving to clear unprofitable operations from the airline.
We understand the airline has notified the British Airline Pilots Association (BALPA).
BALPA General Secretary, Brian Strutton, said: "We're very disappointed to learn that Flybe has decided to close two of its bases (Cardiff and Doncaster), and scaling back at Exeter. This will come as a shock to all staff. BALPA will be working closely with the airline to ensure pilots' jobs are protected and that this difficult process is handled as professionally as possible."
Flybe was forced to cancel flights today following staff shortages after staff were given the news about the base closures early this morning.
Some routes at the affected airports already operated by Bombardier Dash 8 Q400 aircraft are expected to remain operational and there may be some routes that are taken over by the Q400 fleet.
A spokesperson for Cardiff Airport said "We are working closely with Flybe to ascertain its plans moving forward and the role it will continue to have in connecting Cardiff with key routes in the UK and Europe. The winter programme will be launched shortly, but in the meantime, we would reassure passengers that the summer schedule is underway and operating as normal. "
Doncaster Airport told us: "Flybe have operated services at various levels from Doncaster Sheffield Airport since 2006.  Flybe have recently changed ownership with future plans to restructure including a move away from jet flying to stabilise the business across their network.   We are working closely with Flybe and expect them to continue operating at DSA beyond the current summer and winter 19/20 schedule which will be on sale shortly."
Flybe have officially confirmed that the airports will be affected in the following ways:
Exeter – following discussions with the airport, Flybe will cease jet operations with effect from the start of the 2019-20 Winter programme.  The last jet flights will therefore operate on Saturday 26th October 2019.  This will not impact the Q400 operated schedule out of Exeter, nor the existing base structure.
Norwich – as with Exeter, Flybe will cease jet operations with effect from the start of the 2019-20 Winter programme.  This will not affect services at Norwich operated by Flybe's franchise partner, Eastern Airways.
Cardiff & Doncaster – Flybe will cease jet operations out of these airports with effect from the start of the 2019-20 Winter programme.  Flybe currently has a base at both airports to service its jet services.  Once the jet flights cease Flybe will close these bases, but will continue to offer flights to and from both Cardiff and Doncaster on Q400 with aircraft and crew flying from other bases.
The recent woes of Flybe though have raised serious questions about Ms Ourmières-Widener's leadership of the airline. We've spoken to Pilots and Cabin Crew today who all say they have zero confidence in her and she must bear ultimate responsibility for the situation Flybe finds itself in.
Last year one pilot was so incensed by her failings that he emailed her saying: "Congratulations, in two years at Flybe you and your fellow incompetent cohorts have managed to totally destroy a viable airline which was making profits when you took over"
Public opinion is waning too with constant cancellations and delays leading to the airline gaining the nickname "FlyMayBe" – today's cancellations are not connected to the base closures accordng to the airline but in further communications seen by us, Staff were told that "pilot retention" is partly to blame and that "Management Pilots are diverting to the line" to cover staff shortages along with the "training programme was being adjusted".
In another communication to staff, Ms Ourmières-Widener confirmed to staff that Flybe was handing back its remaining E-Jets and had cancelled the 4 remaining orders for Embraer E175 aircraft.
Ms Ourmières-Widener ended the communication saying that they "deeply regret having to take this decision and will be working to avoid redundancies where possible."
In a public statement, Ms Christine Ourmières-Widener said: "Our fleet reduction has always been core to improving our profitability. We are committed to assisting all our affected employees across the impacted Flybe bases. We remain fully committed to Exeter, Cardiff and Doncaster airports and will continue to offer a comprehensive choice of regional and European destinations operated by our 78-seat Bombardier Q400 aircraft"