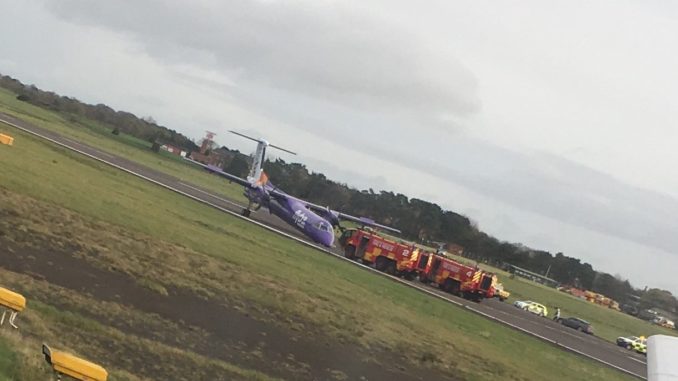 Flybe flight BE331 from Belfast City to Inverness has landed at Belfast International Airport with its nose gear stuck up.
The aircraft had been holding for nearly two hours North-East of Belfast to burn off fuel and attempt to rectify the problem but the decision was made to divert to Belfast International due to its larger runway.
The aircraft, a Bombardier Dash 8 Q400 G-JEDU, crash-landed on the main runway causing the airport and runway to close.
There are no reports of any serious injuries.
A Flybe spokesperson confirms: "Flybe can confirm that there has been an incident involving one of our Bombardier Q-400 aircraft, flight no BE331 which landed with no nose gear in place.
"The aircraft departed from Belfast City at 1107 local time bound for Inverness. The incident occurred at Belfast International Airport at approximately 1330 local time.
"Our primary concern is for the welfare of the passengers and crew."
In a further statement, Flybe confirmed 1 person had been taken to hospital with a minor hand injury. Their spokesperson added "There are no further reports of any other passenger or crew injuries.
"There were 52 passengers plus one infant on board and four crew members.
"We are sending a specialist team to Belfast to offer assistance and we will now do all we can to understand the cause of this incident."
The Air Accidents Investigation Branch (AAIB) have confirmed that they are sending a team to Belfast.