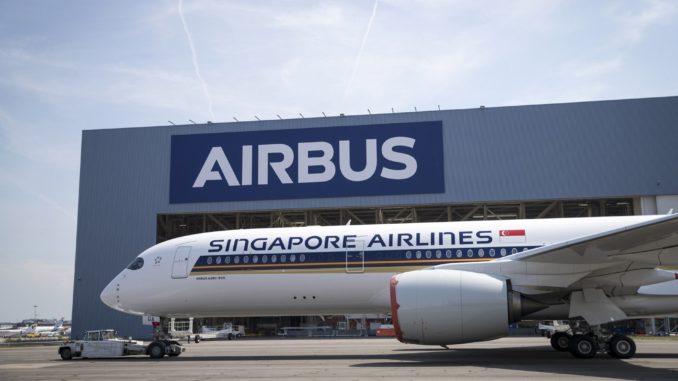 The first Ultra-Long Range (ULR) Airbus A350 XWB has emerged out of the paint shop in full Singapore Airliners livery today.
MSN220 is the first of Seven A350-900 ULR for the Singapore Airlines who plan to use it on routes including Singapore to New York with which it will reclaim its crown of having the worlds longest commercial service. Other destinations from Singapore will include Los Angeles and San Francisco.
The Ultra-Long Range version of the A350-900 XWB sees the range extended to 9,700 nautical miles by carrying an increased amount of fuel. The extra 24,000 litres means the airliner can fly up to 20 hours non-stop.
The Airbus A350 XWB features the latest aerodynamic design using a carbon fibre fuselage and wings. Combined with ultra-efficient Rolls-Royce engines Trent XWB it offers a 25 percent reduction in fuel burn and emissions compared to the aircraft models it replaces.
As well as the engines, which are made in Derby – The wings for the Airbus A350 XWB also come from Britain. They are manufactured in Broughton, North Wales at Airbus' state-of-the-art wing facility.
The A350 XWB also features the new Airspace by Airbus cabin which offers what Airbus describes as "absolute well-being on board" with the quietest twin-aisle cabin and new air systems.
The first ULR variant of the A350-900 will now undergo some further testing ahead of its delivery to Singapore Airlines later this year.