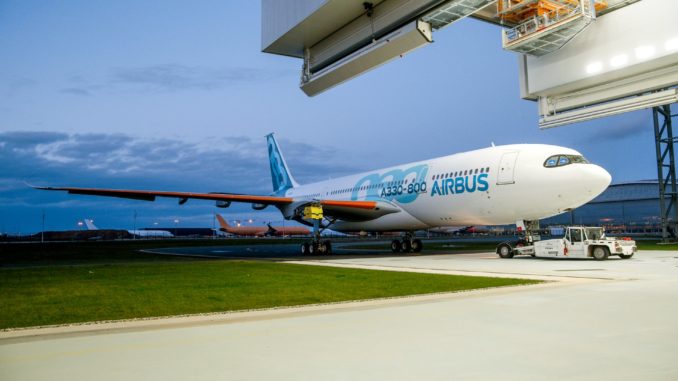 The latest member of the Airbus A330 family, the A330-800neo (MSN1888) has broken cover from the paint shop in Toulouse, France.
Built on the success of the Airbus A330 family, the A330neo (new engine option) offers an upgraded A330 with Rolls-Royce Trent 7000 engines, built on the technology designed for the Boeing 787 Dreamliner & Airbus A350 XWB.
The A330-800, whose wings are made in Broughton, North Wales, is the next generation widebody 250-seater from European airframer. With a Maximum Take-Off Weight (MTOW) of 242-tonnes, the A330-800 can operate routes of up to 7,500nm and with the recently launched 251-tonne MTOW variant, the aircraft can operate ultra-long-range routes of up to 8,150nm.
Airbus says that the A330-800 will build on the A330-200's proven versatility, popularity and reasons for success whilst offering new-generation economics.
Airbus says the A330neo aircraft will offer 25 percent less fuel burn per seat compared to previous-generation and, with the benefit of A330's99.5 percent operational reliability.
The higher capacity A330-900 first flew last year and is expected to enter service in Summer 2018 with launch customer, TAP Air Portugal.
Airbus has so far received 220 orders for the A330neo.
A330-900 First Flight Highlights