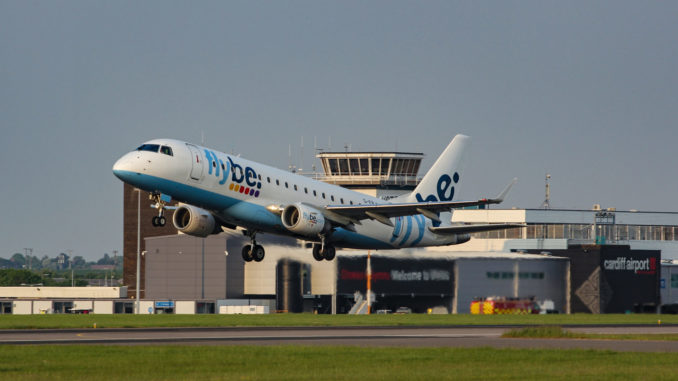 The skies ahead currently look very dark for regional airline Flybe (BE/BEE) as it puts itself up for sale following severe profit warnings.
The struggling airlines latest results show a decline of 54% in its pre-tax profits, down to just £7.4m, revenue also dropped by over 2%.
According to its auditors, PricewaterhouseCooper (PwC) one of the biggest dangers currently facing the airline is that due to its situation, its payment processing companies could increase the cash collateral level needed, something which Flybe would likely be unable to meet.
Flybe has been undergoing a major overhaul and reduction of its network and consolidating its fleet. It has finally ended costly maintenance contracts for some its fleet and returned the expensive Embraer E195 aircraft to the lessor. But more needs to be done.
Earlier this year, the airline also decided to re-brand its aircraft with a new livery, a move many thought bizarre for an airline trying to cut costs.
Further cuts need to be made though as the airline says there may be more route cuts ahead. Christine Ourmières-Widener, Flybe's Chief executive said: "We are responding to this by reviewing every aspect of our business, especially further capacity reduction, cash management and cost savings."
Shares in the airline raised slightly this morning on news that it was putting itself up for sale. Stobart Group is believed to be one potential suitor, the airline announced its intention to buy Flybe earlier this year but abandoned a bid at the time.
The collapse of Flybe could have a huge impact on many regional airports especially Cardiff Airport (CWL/EGFF), Exeter Airport (EXT/EGTE) and Southampton (SOU/EGHI), all of which owe a large percentage of their passenger numbers to the regional airline.
Today for example, nearly 50% of flights from Cardiff Airport are operated by Flybe, that figure rises to over 80% at Exeter and Southampton.
Sources within the airline said that at least 3 potential new owners are in talks and are not necessarily existing airline companies. Investment banking advisory firm, Evercore has been appointed to advise on the sale.