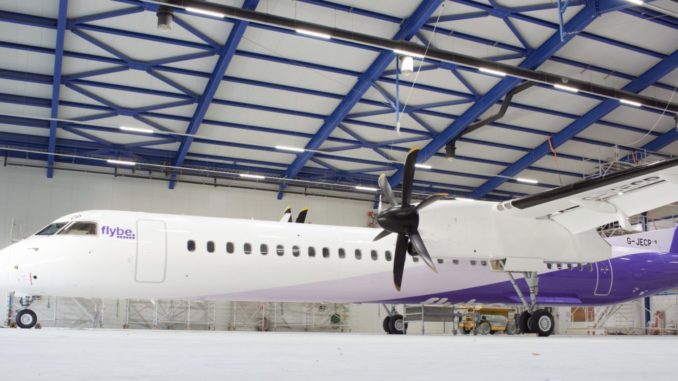 The new livery of Exeter-based regional airline Flybe (BE/BEE) has been seen on Bombardier Dash 8 G-JECP as it sits in the paintshop.
The airline has been redesigning its fleet and routes after years of losses and now it seems it is redesigning its image too.
The new look which features the now familiar purple scheme on the tail and rear fuselage section with an all white aircraft underneath. The Flybe logo features in white on the tail in a similar way to the current livery and it is also seen forward of the L1 & L2 doors in purple.
The new livery will be rolled out across the fleet over the next 6 years with Flybe planning to paint 10 aircraft per year. Flybe says that it is being co-ordinated in line with its existing fleet re-painting and planned maintenance programmes so will be delivered at no extra cost to the airline.
It was created and developed by the Flybe's own in-house design team and offers what it says is a "cleaner, more modern, streamlined design" compared to the purple.
Flybe CEO, Christine Ourmières-Widener, said: "Today marks a memorable new chapter in our airline's history.  To date, almost every part of our business has been touched by our 'Close to You' brand refresh and so refreshing our aircraft livery plays a significant part of strengthening that positioning as well as being an integral part of the ongoing programme to reinvigorate our fleet. The best part is that, by careful planning, we will achieve this at no additional cost to the business."
Flybe says that the aircraft still in Flybe's 'former' white and blue livery will be the first to be re-painted, followed by those which have been purple for the longest period of time. The four brand-new Embraer 175 jets scheduled for delivery in July 2019 will arrive fresh from the factory already resplendent in the new livery.
Flybe also unveiled a video of G-JECP being painted.