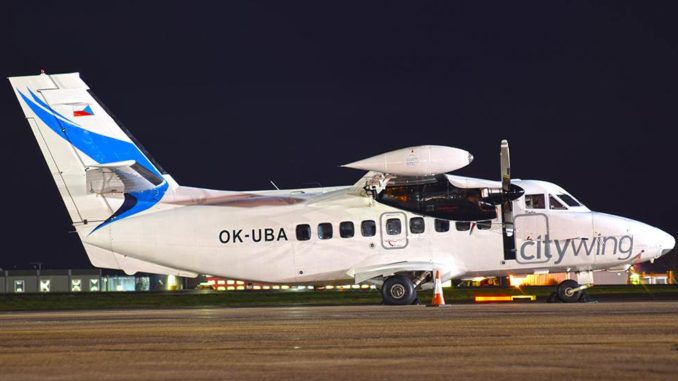 When Citywing collapsed last Friday the Public Service Obligation (PSO) Cardiff to Anglesey route was left without an operator and passengers without transport. Immediately it was announced that tickets would be valid on trains in the interim.
On Sunday, just 2 days later, the Welsh Government announced that Eastern Airways had agreed to take on the route starting on the Monday so, in actual fact there was no break in the continuation of the route. Even better, they announced that passengers who had booked via Citywing would have their bookings honored by Eastern.
Well, they would for a week anyway. The Welsh Government negotiated that Eastern would accept & honour the Citywing bookings between the 13th and 17th March. After today you have to rebook with Eastern, re-pay at Eastern's fare rates and claim your original money back from Citywing.
Several people who had booked with Citywing got in touch with us regarding the situation saying they had no clear answer on the subject and were unsure who, if anyone was honouring the tickets.
One passenger, Liam who had booked flights fly from Anglesey to Cardiff on the 24th March and to return on the 27th, said "I am planning on celebrating my birthday in Swansea as my best friend live in South Wales and we never really get a chance to see each other with work commitments, family etc. When I first heard that Citywing had gone into liquidation I didn't mind as I had read that my tickets would be valid on the trains instead. However, after speaking to Eastern and basically​ being told that there was nothing that could be done and I would have to pay for the flights again, I was very frustrated as I am already £40 down and am expected to either pay that again or pay nearly £100 for the train which is just extortionate."
Eastern Airways told Aviation Wales that "bookings for travel after this week are not transferrable so anyone with a ticket for Citywing services must make a new booking with Eastern Airways, either by phone on 08703 669100 or via the website at www.easternairways.com"
Given that this was route was subsidised with public money, many passengers thought the Welsh Government would have ensured those who booked would be able to travel not just for a week.
We put that to the Cardiff Bay and a Welsh Government spokesperson said: "Following Citywing's decision to cease trading on 10 March 2017, the Welsh Government agreed to honour Citywing/Van Air's ticket bookings this week on Eastern Airways flights between Cardiff and Anglesey for passengers still wishing to travel, in order to minimise disruption in the short term"
As for refunds and re-booking, the Welsh Government said "Passengers scheduled to travel between 20 March and 14 May 2017 are being advised to seek refunds of existing ticket bookings in line with guidance from The Civil Aviation Authority and asked to re-book with the current operator, Eastern Airways."
Will I get my money back?
If you still want to fly between Cardiff and Anglesey you will need to book your flights with Eastern Airways as a new booking and pay the fare set by them.  You will then have to claim any money back for the original booking from Citywing's administrators.
If you paid by Credit Card this is much simpler as you can make a claim to your credit card company for a refund.
If you paid via debit card, you can apply to your bank however whether your bank chooses to refund you is down to your bank.
If you need to you can submit a claim to the creditors. The initial creditor meeting is on the 24th March 2017 (more details at http://www.citywing.com/) but Citywing was a virtual airline so didn't really have any assets like a conventional airline. Citywing just sold tickets it didn't own or operate any aircraft itself. What this means is that unless the company had cash assets its unlikely to be able to settle any debts. Even if it did your £40 ticket is going to be at the bottom of a very long list of creditors seeking significant amounts.
Unlike holidays which are ATOL bonded, flights are not. There is no compensation scheme to protect flight only bookings.
Further advice on what to do when an airline collapses can be found on the Civil Aviation Authorities (CAA) website