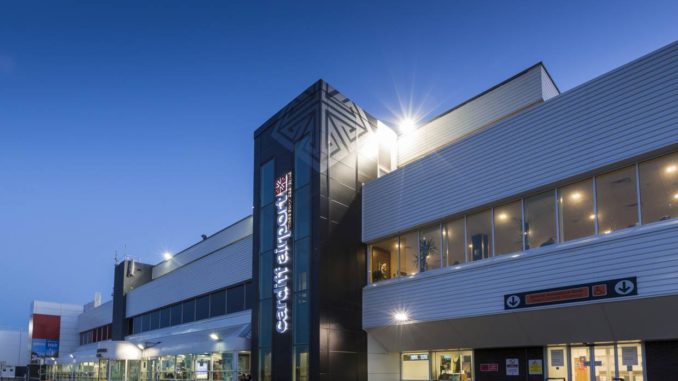 Cardiff Airport (CWL-EGFF) has seen a 9% rise in passenger numbers for 2017 according to the airport's own figures.
The airport says that 1.46 million passengers used its terminal in 2017 although official Civil Aviation Authority figures have yet to be released.
The Welsh-Government-owned airport, which posted a pre-tax loss of £5m in 2017, has a target of 2 million passengers by 2020 (3 million by 2025) which leaves it needing to find over 500,000 extra passengers in the next 2 years which means it must find a raft of lucrative new flights and routes.
Roger Lewis, Chairman of Cardiff Airport, said: "2017 was a watershed year for Cardiff Airport, defined by a 9% increase in passenger numbers on top of 16% growth in 2016.
"2018 will be a transformational year for Cardiff Airport. We will achieve double-digit this coming year and significantly enhance the passenger experience.".  Mr Lewis thinks that if the objectives are met then the airport could break even in the 2017-2018 financial year.
A potential extra 150,000 passengers in 2018 could come from Qatar Airways new daily service to Doha which starts on the 1st May 2017. But the Spanish low-cost airline, Vueling has reduced its 2018 summer capacity by 2000 seats compared 2017.
If the airport reaches its target of 3 million passengers by 2025 it will require new terminal facilities. These are being factored into the airport's long-term plan which is being developed by Engineering consultants, ARUP.
Whilst all growth at Cardiff Airport is welcome news for Wales, an aviation intelligence analysts we spoke to suggested that pushing the airport to the 2 million mark within the target time is unlikely without at least two more major airlines backing Wales' national airport. Sources have suggested that representatives are talking to at least one US-based carrier.
Deb Barber, CEO of Cardiff Airport, added: "2017 has been a significant year of progress for Cardiff Airport. We've welcomed new airlines, added to the choice of destinations for our customers, increased capacity on KLM flights and invested even more into the terminal in order to enhance their experience.
"This growth is forecast to continue in 2018 with a number of new routes already planned for launch this year including Venice with Flybe, Hurghada with TUI, the return of flights to Antalya with TUI and Thomas Cook, a wealth of short breaks with Super Break, Bergen with Hurtigruten and, of course, a new service to Qatar in May.
"We have continued our work this year to strengthen our regulatory performance. Working with the HSE, we have strengthened further our safety processes and procedures and have also maintained our focus on environmental sustainability.
"The business is growing stronger and we are well positioned to deliver on our vision and mission generating significant economic benefit to Wales."