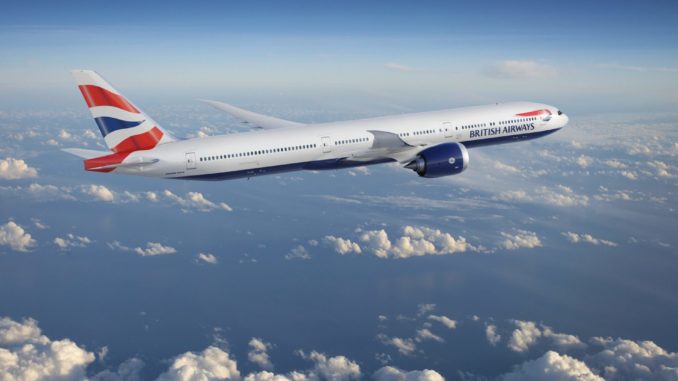 The parent company of British Airways, International Airlines Group (IAG) has signed a deal with Boeing for the purchase of 42 Boeing 777X aircraft.
The deal, worth around $18.6bn at list prices, consists of 18 orders and 24 options for the Boeing 777-9, the worlds largest twinjet airliner.
In a 3-class configuration, the Boeing 777-9 will typically seat around 349 passengers and can fly distances up to 7,525nm with a 12% lower fuel consumption than its competitors.
The Boeing 777-9 will join the British Airways fleet to replace the ageing Boeing 747-400 which are being retired over the next few years.
Willie Walsh, IAG chief executive said: "The new 777-9 is the world's most fuel efficient longhaul aircraft and will bring many benefits to British Airways' fleet. It's the ideal replacement for the 747 and its size and range will be an excellent fit for the airline's existing network," adding "This aircraft will provide further cost efficiencies and environmental benefits with fuel cost per seat improvements of 30 per cent compared to the 747. It also provides an enhanced passenger experience."
British Airways is already one of the largest operators of the Boeing 777, affectionately known as the Triple-7 with 46 Boeing 777-200 and 12 Boeing 777-300 aircraft currently in service.
Speaking about the deal Kevin McAllister, president & CEO of Boeing Commercial Airplanes, said: "British Airways is one of the most iconic international carriers, now in its 100th year of connecting the world with its impressive route network. We are honoured that British Airways has selected the 777X as part of its fleet for its next century. Together with the 787 Dreamliner, we are excited for the 777X to help British Airways build on its incredible legacy," adding: "The 777-9, in particular, simply has no competitor in its class when it comes to efficiency and performance. It is the right-sized airplane for British Airways to efficiently serve long-range routes with heavy passenger demand."
The first Boeing 777-9, which is expected to make its flight debut next month, should be delivered to the airline in 2020.