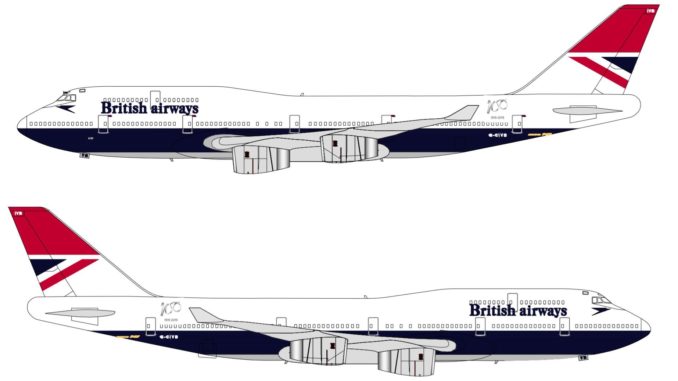 British Airways (BA/BAW) has confirmed that the final BA100 retro livery will be NEGUS, used by the airline from 1974 to 1980.
In what was probably the worst kept secret in aviation, Boeing 747-400 G-CIVB flew off to Dublin last saturday to be repainted into the famous livery which like LANDOR features the Union flag on the tail, but with NEGUS it is primarily red.
NEGUS was the first livery to wear the British Airways name following the merging of BOAC and BEA to form the airline.
The livery is the fourth and final one to make up the BA100 heritage livery fleet and joins 2 other Boeing 747s G-BYGC (BOAC) and G-BNLY (LANDOR) along with a BEA Airbus A319 G-EUPJ.
Alex Cruz, British Airways' Chairman and CEO, said: "Rumours have been circulating for quite some time about this final livery, so it's exciting to confirm it is the Negus design. It's particularly significant for us because it's the first design worn by the British Airways that we all know today, with the distinctive lower case 'a' and the Union Flag on the tailfin."
Boeing 747-400 G-CIVB is named "City of Lichfield" and the aircraft is due to return to the fleet in its new livery later this month,