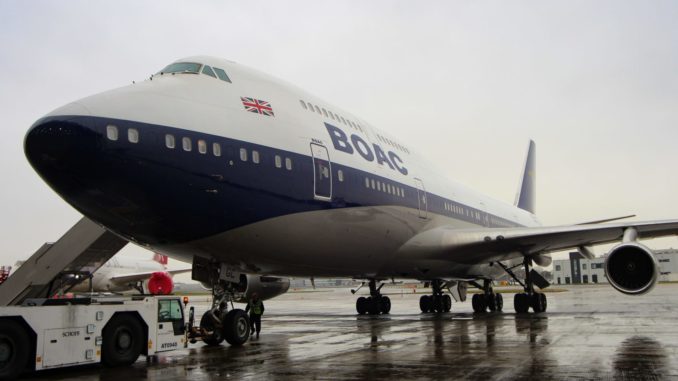 British Airways (BA/BAW) has unveiled its first retro-liveried aircraft to mark its #BA100 celebrations.
The Boeing 747-400, G-BYGC, has been repainted into the blue and gold livery of BOAC (which became British Airways in 1971) and we were on hand to watch it arrive into Heathrow for the first time after coming out of the paint shop in Dublin.
Even the grey and wet British weather couldn't spoil the enjoyment day which also saw cabin crew dress in period BOAC uniforms and a host of special guests including former BOAC crew.
Alex Cruz, British Airways' Chairman and CEO, said: "The enormous interest we've had in this project demonstrates the attachment many people have to British Airways' history. It's something we are incredibly proud of, so in our centenary year it's a pleasure to be celebrating our past while also looking to the future. We look forward to many more exciting moments like this as our other aircraft with heritage designs enter service."
The BOAC livery will remain on G-BYGC until it retires in 2023.