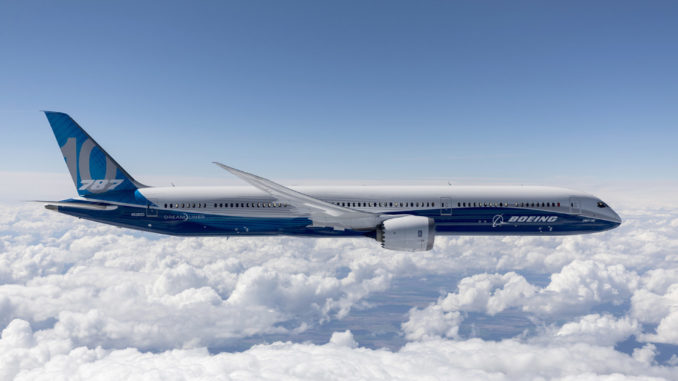 The largest variant of the Dreamliner family, the Boeing 787-10, has achieved US Federal Aviation Administration (FAA) certification, paving the way for its first delivery to Singapore Airlines in the first half of 2018.
The 787-10 is 18ft longer than the 787-9 and seats 330 passengers in typical a two-class configuration. Its range is 6,430 nautical miles (11,910 km)
Certification comes after a flight test program that began in March 2017 at Boeings facility in South Carolina, home of the Boeing 787-10 final assembly line. The certification program involved three flight test aircraft which together flew over 900 flight hours.
In a statement, Boeing said it expected "other aviation regulatory agencies are expected to follow the FAA's lead and certify the airplane before it enters service,"
Boeing has more than 170 orders for the Boeing 787-10 from nine customers, including launch customer Singapore Airlines who have committed to 49 787-10s. European customers include Air France-KLM (7) and British Airways (12).
"We are pleased to have met the rigorous standards set forth by the FAA and are eager to bring the airplane to market for our valued customers," said Brad Zaback, vice president and general manager of the 787 program. "After years of design and testing, our team has proven the quality, safety and reliability of the newest member of the Dreamliner family and we look forward to seeing the airplane in service later this year."