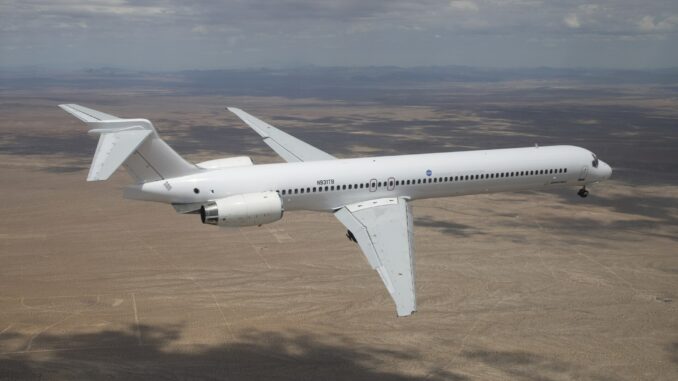 US planemaker Boeing has taken delivery of MD90 N931TB which will be modified to become X66A, a flying test bed for the Transonic Trust Braced Wing (TTBW) programme as part of NASA's Sustainable Flight Demonstrator project.
The aircraft will now undergo extensive modification in order to be fitted with ultrathin wings braced by struts with larger spans and higher-aspect ratios that form the basis of the TTBW programme which Boeing thinks will help achieve its goal of net-zero aviation greenhouse gas emissions by offering fuel use and emissions by up to 30%.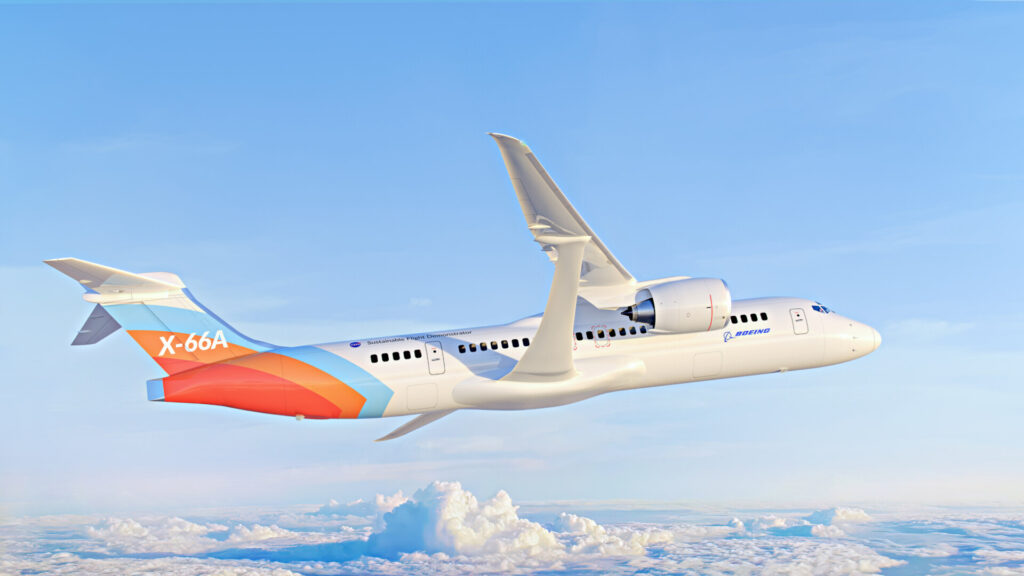 "This marks an important step in the Sustainable Flight Demonstrator project, advances Boeing's commitment to sustainability and brings us closer to testing and validating the TTBW design," said Boeing Chief Technology Officer Todd Citron.
"We at NASA are excited to be working with Boeing on the X-66A Sustainable Flight Demonstrator making critical contributions to accelerate aviation towards its 2050 net-zero greenhouse gas emission goal," said Ed Waggoner, deputy associate administrator for programs in the NASA Aeronautics Research Mission Directorate.
The aircraft was delivered from storage at Victorville California to Aerospace Valley, Palmdale,
"Aerospace Valley has a long and distinguished history as the cradle of aerospace innovation, and this unveiling is a continuation of that critical work. Palmdale's talented workforce and infrastructure make it the perfect location for this important project," said Congressman Mike Garcia (CA-27).
MD90 N931TB started life with China Southern Airlines as B-2266 in 1999 before being bought by Delta Airlines in 2011. After spending 10 years with Delta the aircraft was retired to Victorville in March 2021.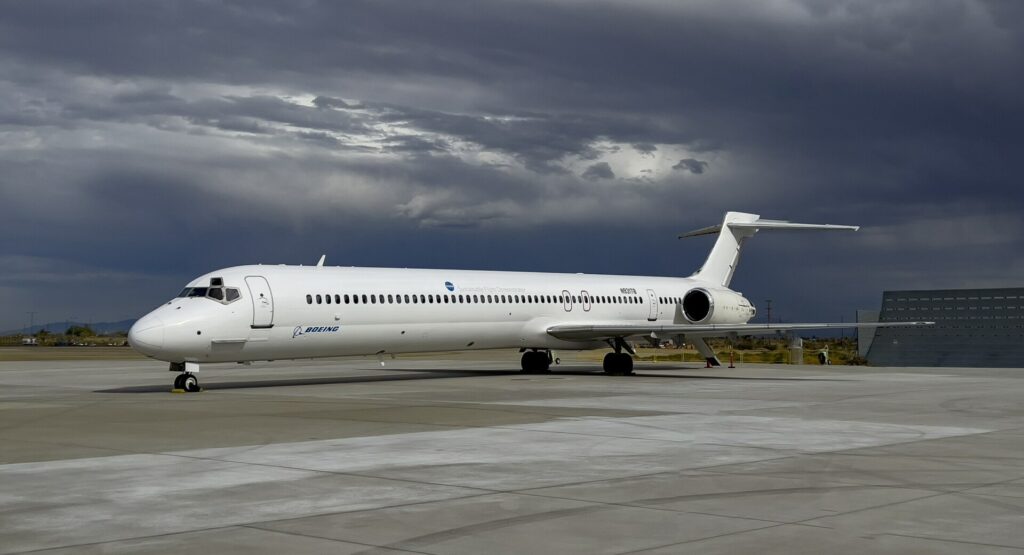 What is a Transonic Trussed Braced Wing?
The transonic trussed braced wing represents an innovative aerodynamic concept designed to address the challenges of transonic flight, typically occurring at speeds near the speed of sound. In this design, the wing is characterized by its unique truss structure and bracing configuration. The truss structure incorporates lightweight, rigid structural elements that form a lattice-like pattern within the wing's interior. This lattice not only enhances the overall structural integrity of the wing but also enables more efficient load distribution and stress management during flight. The bracing, which consists of diagonal support elements connecting the wing's main structure to the truss, further enhances the wing's strength and stability, allowing it to maintain its aerodynamic shape and performance in the face of the turbulent airflow experienced at transonic speeds.
The transonic trussed braced wing concept aims to mitigate the adverse effects of shockwaves and aerodynamic drag that often arise as aircraft approach and traverse the transonic regime. By strategically combining the truss structure with the bracing elements, this design reduces the likelihood of shockwave-induced disturbances, thus improving the overall performance and efficiency of the aircraft during transonic flight. Additionally, the reduced aerodynamic drag contributes to improved fuel efficiency and range, making the transonic trussed braced wing an attractive option for aircraft that operate in the transonic speed regime. However, practical implementation and validation through rigorous testing and simulation are crucial steps to confirm the feasibility and benefits of this innovative wing design for real-world applications.