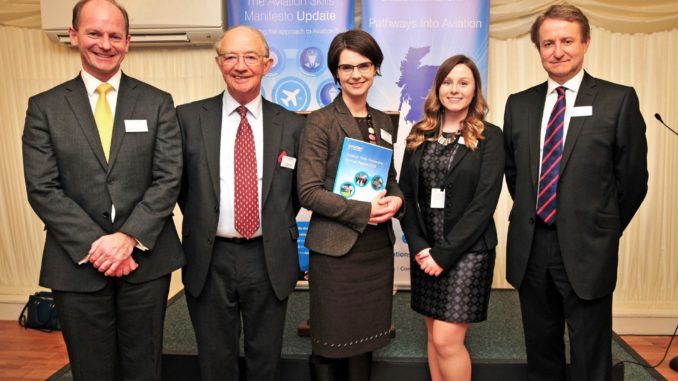 Aviation skills specialist, Aviation Skills Partnership (ASP), has spelt out its vision to create the next generation of aviation professionals.
Speaking on the organisation's fifth birthday at its annual Aviation Skills Manifesto update at the House of Commons, ASP founder and chief executive, Simon Witts, said stakeholders across the industry need to work more closely together to secure the sector's future and provide pathways for talent.
Addressing an invited audience of industry influencers including, MPs, business leaders, educators, trainers and academics, he said: "People have always had a fascination with aviation, but we rarely see that interest and excitement translating into careers.
"There is a whole pool of talent out there, but the onus is on us to make our industry accessible to the right people by providing the right infrastructure at a local, regional, national and international level.
"Working together with airlines, operators, universities, colleges, schools and training providers we are determined to provide the well-trained workforce of the future that the UK and international aviation industry so desperately needs and deserves."
ASP works with partners across the UK to help secure the next generation of pilots, air traffic controllers, engineers, airport operations staff and cabin crew
Last year it opened its first International Aviation Academy in Norwich – a world-first learning environment for students to complete their studies under one roof. Developed with Norse Group in conjunction with Norfolk County Council and the New Anglia Local Enterprise Partnership – the Academy is the first of many planned by ASP over the next few years.
Event co-host and MP for Norwich North Chloe Smith said: "I'm immensely proud to support the Aviation Skills Manifesto and pleased to have helped bring about the first-ever International Aviation Academy in my constituency. It's a truly-unique learning environment, which not only provides a great training facility for the next generation of aviation professionals, but will encourage jobs and underlines Norwich's importance to the national and regional economy."
Guests heard from Air Vice-Marshal Mike Wigston CBE, Assistant Chief of the Air Staff, who spoke about the Royal Air Force's collaboration with Aviation Skills Partnership to build the Aaron Aerospace Academy at RAF Syerston in Nottinghamshire.
He said: "In 2018 we mark the centenary of the Royal Air Force – an opportunity to commemorate the proud history of the Service, to celebrate who we are and what we do on behalf of the nation today, and, most importantly to inspire a new generation about the RAF and the aerospace industry more widely. We are delighted to be working with ASP to develop a national network of aerospace training and education excellence, starting with the new academy at RAF Syerston."
The audience also heard from ASP Ambassador and A320 pilot, Anna McGrady – one of the first trainees to graduate as a professional pilot thanks to an innovative framework developed by ASP.
She said: "I am a living, breathing example of the opportunities that are now available for young people in aviation thanks to the Aviation Skills Partnership. ASP has played a vital role in me being where I am today and I'm sure they will do the same for others for many years to come."
ASP also used the event to announce a collaboration with Cranfield University – a renowned centre for aerospace and aviation learning and innovation. The two will consider ways to work on a wide range of programmes that will help young people achieve careers in the industry.
For more information on Aviation Skills Partnership visit: www.aviationskillspartnership.com
For more information on the International Aviation Academy, Norwich visit: www.aviationskillspartnership.com/careers/international-aviation-academies/iaan