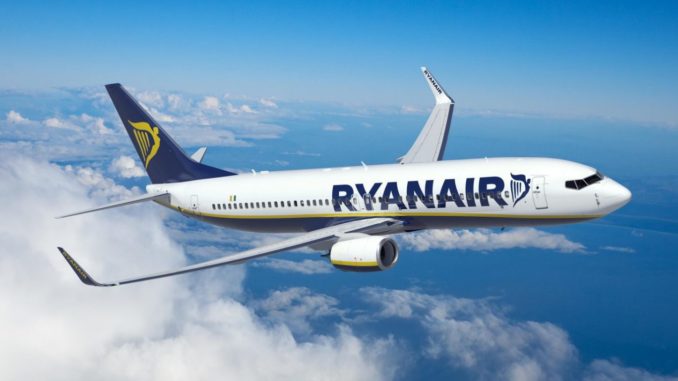 Ryanair has announced a major expansion at Manchester Airport (MAN/EGCC) today including more based aircraft and new routes.
The Irish low-cost carrier (LCC) will now base 3 additional Boeing 737-800 aircraft at the airport in the summer, stating in June.
In addition to the based aircraft, Ryanair also announced 10 new routes including:
 Agadir (2 times per week)
Almeria (2 times per week)
Barcelona Reus (2 times per week)
Belfast (daily from March)
Cagliari (2 times per week)
Palermo (2 times per week)
Ponta Delgada (1 time per week)
Porto (3 times per week)
Rhodes (2 times per week)
Venice Treviso (3 times per week)
The investment, worth £209 million ($300m), will see more frequencies to sun destinations for summer family holidays, with even lower fares.
Ryanair's Cheif Marketing Officer, Kenny Jacobs said: "Ryanair is delighted to announce an additional investment of $300 million at Manchester with three extra based aircraft for our peak summer 2018 schedule, bringing the total investment at Manchester to $1.2bn. We will deliver an exciting set of 10 new Manchester summer routes, some of which are connecting with Manchester for the first time, and add an extra 300,000 summer seats to the schedule. These new summer routes will go on sale on Ryanair.com from tomorrow (Friday 26 Jan).
Over the past four years, Manchester has been one of our fastest growing bases in the UK and this year summer numbers will grow again by a further 9%. Ryanair will continue to connect Manchester with major leisure and business centres on high frequency, low fare services including Dublin (5 daily), Madrid (daily) and Rome (10 wkly) with better timings and lower fares, making Ryanair the ideal choice for Manchester business and leisure customers.
To celebrate our summer expansion, we are releasing seats for sale from just €19.99, which are available for booking until midnight Sunday (28 Jan) for travel until April."
Manchester Airport's Aviation Director, Julian Carr, said: "We are pleased to see Ryanair add three additional aircraft to Manchester Airport. As well as increasing its route network and options for passengers, it also creates jobs for people here in the North West.
We look forward to the routes starting and the added international connectivity they offer our 27.8m passengers."
Find the cheapest Ryanair flights from Manchester