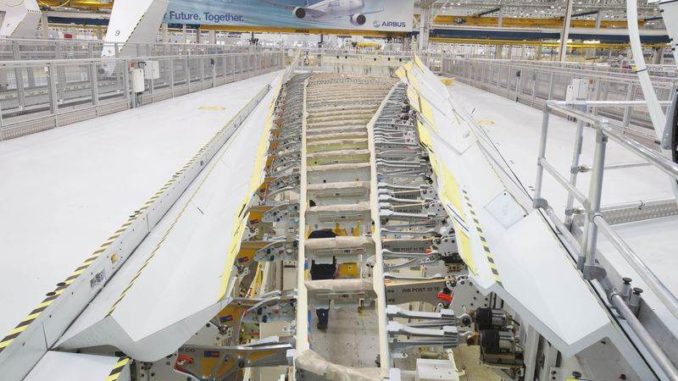 Airbus has improved the wing assembly procedure for the Airbus A350XWB at its Broughton plant in North Wales.
When Airbus designed the wing for the A350 it was designed to be built horizontally as opposed to the traditional vertical build. The advantage being the wing never has to be rotated at any point during the build.
This has been acheived by using Automated Ground Vehicles (AGV's) to move the wing around to different workstations in the plant.
Airbus selected Electroimpact to design and improve this process as the company had previously designed wing building systems for Airbus including for the A320, A330, A340, A400M and the A380.
The system designed by Electroimpact for the A350 wings consists of several workstations, where a jig holds the wing skeleton in place while the top and lower skin panels are applied through a series of drilling, bolting and tacking operations. Automated machines perform all rib-to-spar assembly operations. Some workers oversee these machines, while others perform select manual operations.
Three challenges with Wing Assembly
According to Damon Griffiths of Electroimpact there are three main challenges when building a wing horizontally, First and foremost, the 33-meter-long wings must be high enough off the ground so workers can easily access the wing from above or below, and drilling, bolting and tacking machines easily pass underneath.
A second challenge is allowing enough room around the wing to account for its curvature and ensure easy worker access with minimum physical strain. The system also needs to be expandable to accommodate production increases over time.
In order to meet these challenges Electroimpact worked with Bosch Rexroth to develop two types of aluminum-profile platforms for the system. Inboard platforms, measuring 14 meters long and 6 meters wide, are positioned at the widest part of the wing with lower-access platforms feature hinged flip flooring that links together like a jigsaw puzzle.
There is then a total of  four inboard and 36 lower-access platforms used to provide workers complete access across the length and width of each wing. These platforms are moved into place with AGVs.
Airbus paid around £700,000 for the platform system but say this is a very cost effective move.