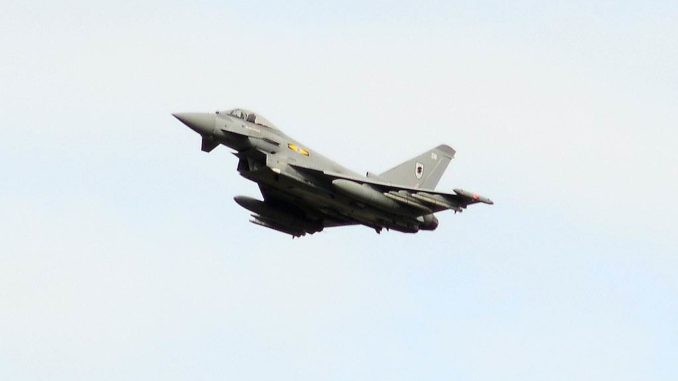 A Major Incident took place at Cardiff Airport today due to a civilian aircraft that was unable to communicate with Air Traffic Control.
The RAF confirmed that it had scrambled to RAF Typhoon Quick Reaction Alert (QRA) aircraft to intercept an "unresponsive" aircraft.
The Aircraft, a Bombardier Challenger 300 (CL30 D-BTLT), was escorted to Cardiff Wales Airport (CWL/EGFF) prompting a major incident and causing the Airport and surrounding roads to be closed for a short period.
A Cardiff Airport spokesperson said "A private jet travelling across UK airspace temporarily lost radio contact this afternoon. As a precautionary measure the aircraft was escorted into Cardiff Airport as a safe place to land. The team at the Airport responded quickly, working closely with the emergency services and the RAF to facilitate the safe arrival of the aircraft."
Despite being closed for a short time Cardiff Airport is now open and operating normally.
This video by Jac Osborne captures the moment the Challenger lands at Cardiff Airport.

Live Updates
Live updates ended at 17:39
(please note twitter feeds do not imply accurate information or endorsement from Aviation Wales)
17:20 Aircraft was a Challenger 300 Corporate Jet which was unable to communicate with ATC. Tweet from FlightAlerts777:
#KL1063 is now descending into Cardiff Airport after holding due to Typhoons escorting Challenger 300 without comms⚠ pic.twitter.com/xrsOMTiB1L

— Flight Alerts ⚠ (@FlightAlerts777) April 8, 2016
17:13 Cardiff Airport appears to have re-opened
17:09 RAF Confirm that 2 QRA Fighter Jets were scrambled from RAF Conningsby to intercept "unresponsive" civilian aircraft.
17:03 Early reports suggest a private jet which had lost communications, or was not communicating with ATC was escorted into Cardiff Airport by Royal Air Force Quick Reaction Alert (QRA) Typhoons.
17:00 Reports of miltary aircraft in the area. Twitter user MsHarris79 tweeted:
@BBCBreaking Major incident taking place at Cardiff Airport. Lots of police and two Airforce planes just went over. What's going on?

— Sarah (@MsHarris79) April 8, 2016
16:55 Port Road near the airport is closed.