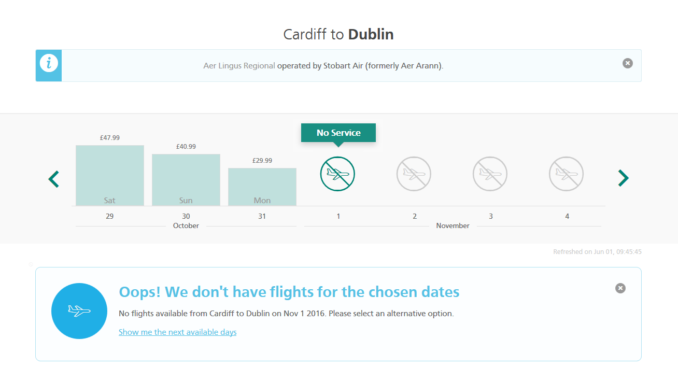 Stobart Air has confirmed that the Aer Lingus Cardiff to Dublin route is ceasing from the end of october 2016.
Aviation Wales contacted Stobart Air after an Aer Lingus customer asked on twitter why they couldn't book the route in January 2017. Aer Lingus replied stating "the route is not operating after the 1st November unfortunately.
Stobart Air told Aviation Wales that: "Stobart Air can confirm that Aer Lingus Regional route between Dublin and Cardiff will cease with effect from 1 November 2016. All scheduled flights on this route between now and 31 October will operate as normal.
This commercial decision is a result of a systematic review of our Aer Lingus Regional route network and reflects how best we deploy our aircraft across the full network."
Operating since 1952
Aer Lingus has flown the Cardiff to Dublin route from the Rhoose airport since 1952 after operations were transferred from the old Cardiff Municipal Airport on Pengam Moors. The route is currently operated by Stobart Air on behalf of Aer Lingus.
The ending of the route also closes the option of flying to the United States of America (US) from Cardiff Airport via Dublin with Aer Lingus to pre-clear US Customs in Dublin, a popular choice for many.
Recently, they have received competition from low fares carrier Flybe who have started a twice daily service from Cardiff to Dublin.
Aer Lingus will be the 2nd airline to withdraw from Cardiff Airport since Flybe opened a base there. Last year CityJet stopped operations citing "favorable conditions for Flybe" as their reason for withdrawing.