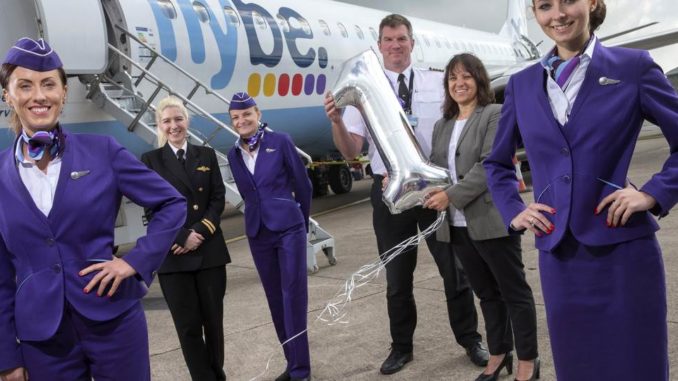 Since Flybe expanded its operations at Cardiff Airport on June 1st 2015, 334,000 pasengers have used the low fares carrier.
Over the last year Flybe has expanded its network from 4 destinations to 16 and now bases 2 modern Embraer E195 Jets at Wales' only international airport.
Flybe currently offers flights to London City, Munich, Berlin, Milan, Paris, Edinburgh, Faro, Jersey, Geneva, Düsseldorf, Glasgow, Verona, Dublin, Belfast, Cork and Chambery from Cardiff Airport.
The passenger numbers respent a 600% uplift on the previous year with over half the bookings originating from within wales.
Flybe's Chief Revenue Officer, Vincent Hodder, comments: "Flybe's strong performance and increased growth over this first full year of our base operations at Cardiff demonstrates our commitment to the national airport of Wales.
"We have continued to fine tune our schedule with added frequency and new routes and that is testament to our flexibility and responsiveness in meeting customer needs.
"We are pleased they are happy customers, too! Our research shows high customer satisfaction and strong awareness of the Flybe brand in Wales, with four out of five people knowing that Flybe flies from Cardiff Airport, providing a 'One Stop to the World' through numerous opportunities for onward connections both domestically and further afield.
"We look forward to continued growth and access to faster, convenient and more affordable options for flying direct to and from Wales. Having such choices to travel to and from local regional airports is something we at Flybe consider a necessity, not a luxury."
Debra Barber, managing director and chief operating officer at Cardiff Airport, said: "Cardiff Airport is a strategic gateway in and out of Wales for thousands of businesses and holidaymakers. Last year was a turning point for the business, and we're targeting further growth in 2016. The Flybe base, along with the 17 other airlines that regularly make use of our facilities, is an important part of this success story, helping to provide more choice and flexibility for customers than ever before."
Happy 1st Birthday Flybe.