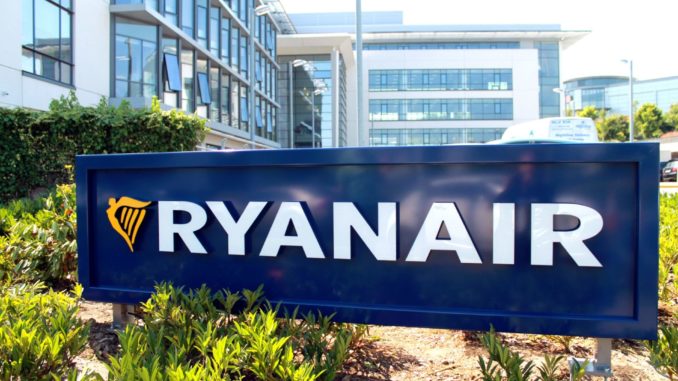 1 in 6 Ryanair flights has been cancelled today as Pilot strikes spread across Europe.
Pilots in Ireland are staging their latest 24-hour walkout and are joined by pilots in Belgium, German, Sweden and the Netherlands with around 50,000 passengers being affected.
The row over pay and conditions for Pilots is deepening for the budget airline as it faces growing action and it shows no sign of abating.
Last week Ryanair issued a statement blaming its competitors for the industrial action going as far as naming an Aer Lingus pilot as being behind the campaign against the budget Irish carrier. In the statement Ryanair said "This irresponsible action, designed to cause the maximum damage to Ryanair, more disruption and harm to its passengers, is indicative of FORSA's agenda, which is not to seek a resolution of Ryanair pilots actual concerns, but rather to advantage its competitors and in particular Aer Lingus. In fact it is quite clear that this agenda is being driven by amongst others an Aer Lingus pilot Capt. Evan Cullen who appears to be controlling the FORSA agenda."
It also sought legal action to prevent Dutch pilots going on strike, this was rejected by Dutch courts.
One of the key areas of contention is contract law, pilots want their employment contracts to be in the country they are based and work in rather than being forced to work under Irish terms.
The unions have also accused Ryanair of breaching labour laws and union sources allege that Ryanair had threatened to strip crew of productivity bonuses and warned that their promotion chances would be affected. Ryanair has already issued redundancy notices to 100 pilots and 200 cabin crew based in Dublin.
The industrial action is also starting to affect Ryanair's value which has lost over a fifth of its value in recent months.
Ryanair says it has made every effort to resolve the dispute.
Know your rights if your flight is cancelled
As Ryanair is a European airline, if your flight is cancelled then Under EU Law you are entitled to take an alternative flight with the Ryanair to your destination, or cancel your flight and claim a full refund. If the alternative isn't suitable, then Ryanair is legally obliged to book you on a comparable flight with them or an alternative airline. This known as rerouting and even if that flight costs Ryanair more, they can't pass that cost on to you.
Last year, when Ryanair cancelled thousands of  flights when crew holidays left it short of available pilots, the CAA publically stated that Ryanair was misleading customers by not offering, or saying they weren't required, to reroute customers on alternative airlines.
Speaking at the time, the Civil Aviation Authority's Chief Executive, Andrew Haines, said: "There are clear laws in place, which are intended to assist passengers in the event of a cancellation, helping minimise both the frustration and inconvenience caused by circumstances completely out of their control.
We have made this crystal clear to Ryanair, who are well aware of their legal obligations, which includes how and when they should reroute passengers, along with the level of information it provides its passengers."