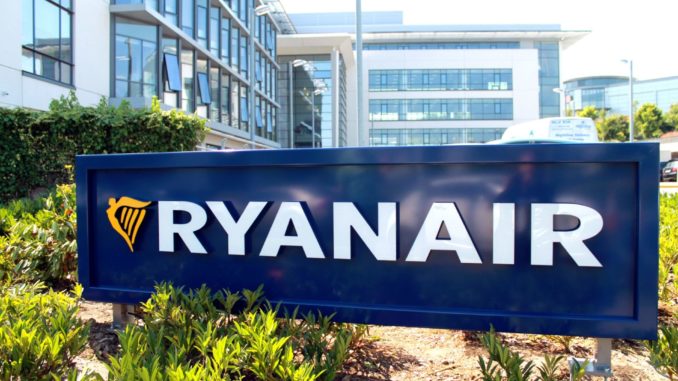 Ryanair, Europe's largest budget airline, has seen its profits fall 20% in the first quarter of 2018.
Profits for the airline dropped to €319m despite traffic growing 7% to 36m passengers in the period.
Ryanair blamed lower fares, higher fuel costs and pilot costs for the decrease in profit. The airline has also been the subject of industrial action by its crews over pay and conditions which has seen a raft of flights cancelled recently.
Michael O'Leary also again called out ATC shortages as a reason for cancellations and delays. In a statement, the airline said that "Repeated ATC staff shortages (mainly in UK, Germany & Greece) and strikes (France) are causing widespread damage to airline schedules this summer.  French ATC, the worst offenders, went on strike for 9 of the 13 weekends during April, May and June leading to thousands of cancelled flights."
NATS, the UK's ATC provider recently disputed Ryanair's claims about UK ATC shortages claiming that Ryanair were misleading passengers on the cause.
Ryanair took delivery of 14 Boeing 737-800 aircraft in the period and launched 239 new routes for summer 2018 across Europe.  The airline says that bookings are ahead of last year, but at lower fares which are contributing to the drop in profits. The airline continues to see overcapacity in the European market, with Germany in particular seeing very low fares this summer.
Ryanair's Chief Executive Office, Michael O'Leary said: "As previously guided, Q1 PAT fell by 20% to €319m due to lower fares, the absence of half of Easter in the quarter, higher oil prices and pilot costs.  Traffic grew 7% to 37.6m, despite over 2,500 flight cancellations caused by ATC staff shortages and ATC strikes. Ryanair's lower fares delivered an industry leading 96% load factor. "
Ryanair also continues to face stiff competition, not just from Easyjet and Flybe but an increasing number of low-cost airlines such as Norwegian and Primera Air.
It's very public crew shortages last year (which the airline says was down to a leave scheduling error) led to thousands of cancellations and increasing amounts of industrial action by its Pilots and Cabin Crew have also had an effect on the reputation of the budget carrier.