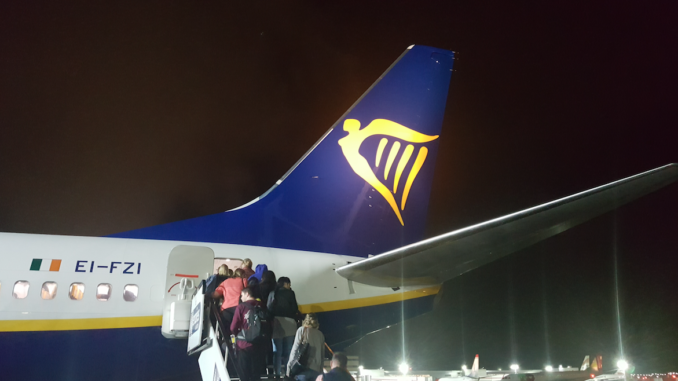 The Civil Aviation Authority (CAA) has said it is expediting enforcement proceedings against Irish low-cost airline Ryanair for repeatedly misleading customers.
Ryanair has told passengers caught up in the recent pilot crisis that Ryanair did not have to book them onto another carrier if their Ryanair flight was cancelled.
This is in direct breach of European regulations EC261 that state that if a carrier cancels a flight then the customer is entitled to a full refund or rebooking onto another flight, even if that is with a rival carrier. It is the passengers choice, not the airlines.
The news comes as Ryanair today released a statement announcing more cancellations over its winter schedule affecting up to 400,000 passengers.
Ryanair has repeatedly denied that it has a shortage of pilots and the situation comes from "false claims made about them, and Ryanair, by competitor airline pilots in certain media outlets".
The latest blow to Ryanair pilots came when Ryanair CEO Michael O'Leary said their job wasn't hard and warned them that if they "misbehave there will be no goodies".
Speaking about the enforcement action, Civil Aviation Authority's Chief Executive, Andrew Haines, said: "There are clear laws in place, which are intended to assist passengers in the event of a cancellation, helping minimise both the frustration and inconvenience caused by circumstances completely out of their control.
We have made this crystal clear to Ryanair, who are well aware of their legal obligations, which includes how and when they should reroute passengers, along with the level of information it provides its passengers.  The information Ryanair published today again fails to makes this clear.
In expediting our enforcement action we are seeking to ensure that Ryanair's customers will receive the correct and necessary information, to make an informed choice about an alternative flight."
What can the CAA do?
In accordance with Part 8 of the Enterprise Act 2002, and during their consultation with the airlines, the CAA may seek legal undertakings from operators to ensure they change their policies and comply with the law.
Should an airline refuse to engage/agree to change their policies and comply with the regulations, the next step would be to start legal proceedings (court action) pursuant to Part 8 of the Enterprise Act, for non-compliance of EC261/2004.