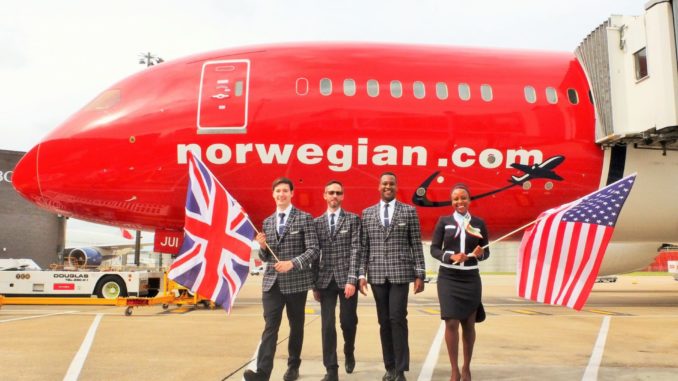 Flights to the US from the UK have got cheaper and cheaper in recent years thanks for low-cost long-haul carriers but one of them, Norwegian.com has just made it even cheaper!
The airline, which operates flights to top US destinations from London Gatwick (LGW/EGKK), has just launched its biggest ever sale and as a result you can get a flight from London Gatwick to Boston for just £140!
At that price you might think that you will be an old tatty aircraft for that money but you would be wrong, Norwegian.com operates a fleet of state-of-the-art Boeing 787 and 737Max aircraft on its transatlantic routes from the UK with some of the youngest aircraft on the UK register.
Unlike other low-cost airlines Norwegian also provides state-of-the art entertainment systems and free wifi. You can choose any movie or TV show you'd like on your seat back touch screen and their award-winning interactive 3D map lets you explore your destination and get tips on where to go and what to do before you arrive.
You can also order and purchase snacks and drinks directly from your seat via the screen, pay with your credit card and the crew will be deliver it to you.
Norwegian has seen rapid expansion over the last few years and has caught the attention of many established airlines. Lats year, British Airways parent IAG took a stake in the airline to use as a platform to buy Norwegian.com. They have so far been unsuccessful in their attempts.
Norwegian's best ever sale is the perfect opportunity to take adavantage of those cheap flights and have long New England weekend in Boston, or live it up in Las Vegas.
Current US Flights on sale from Gatwick
New York JFK from £155 one-way in economy and £465 one-way in Premium
Boston from £140 one-way in economy and £415 one-way in Premium
Orlando from £165 one-way in economy and £515 one-way in Premium
Fort Lauderdale (Miami) from £160 one-way in economy and £515 one-way in Premium
Denver from £165 one-way in economy and £515 one-way in Premium
Las Vegas from £180 one-way in economy and £515 one-way in Premium
Los Angeles from £175 one-way in economy and £515 one-way in Premium
Oakland (San Francisco) from £165 one-way in economy and £515 one-way in Premium
Chicago from £140 one-way in economy and £430 one-way in Premium
Austin from £170 one-way in economy and £515 one-way in Premium
Tampa from £160 one-way in economy and £515 one-way in Premium
For full details and to see all their Autumn Deals visit https://www.norwegian.com/uk/autumn-deals-europe